Design – The Doctor of Physical Therapy curriculum is three years in length. It begins in the fall semester and ends in September. It is an integrated curriculum of academic and clinical education experiences.
Year 1 – Foundational Sciences & Basic Physical Therapy Procedures
Year 2 – Physical Therapy Procedures
Year 3 – Physical Therapy Management
Clinical Experiences – The clinical experiences, both part-time and full-time, are integrated into the classroom experiences. Clinical sites are numerous and varied. The clinical experiences include:
Part-time clinical experiences (Practicum) – Three semesters, Year 1 -summer, Year 2 – fall and spring
Full-time clinical experiences (Affiliation) – 30 weeks total; Four affiliations are interspersed throughout the program: Affiliation I – winter semester of the 2nd year, Affiliation II – late fall semester of the 3rd year, Affiliations III and IV – summer of the 3rd year.

More about Clinical Education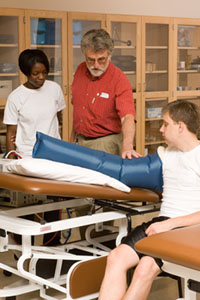 Evidence-Based Curriculum – The curriculum is infused with current physical therapy evidence. Students become comfortable with reading and applying research evidence pertinent to the practice of physical therapy.
Independent Study Credits -The independent study offers a means for students to pursue both academic and clinical interests beyond the scope of course work in the program under the direction of a faculty adviser. The content and methods of study for this course will vary and are arranged by the student and adviser. Areas of study may include cardiopulmonary, orthopedics, neurology, pediatrics, women's health, or other fields of study. Click here for descriptions of sample Independent Studies .
Research Projects – Students successfully complete a research project with a partner(s) and under the advisement of a faculty member. The project begins in the summer of the 1st year and is completed the spring of the 3rd year. Click here for a complete of past research project titles.


Click here for the Course Sequence