The clinical experiences, both part-time and full-time, are integrated into the classroom experiences. Clinical sites are numerous and varied. The clinical experiences include:
Part-time clinical experiences (Practicum) – Three semesters, Year 1 -summer, Year 2 – fall and spring

Full-time clinical experiences (Affiliation) – 30 weeks total; Four affiliations are interspersed throughout the program: Affiliation I – winter semester of the 2nd year, Affiliation II – late fall semester of the 3rd year, Affiliations III and IV – summer of the 3rd year.
Students are able to apply the knowledge and skills they have learned in the classroom to actual patient care by participating in part-time clinical practicums and full-time clinical affiliations.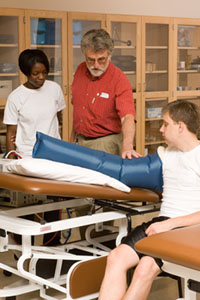 Students rotate through a variety of clinical practicum and affiliation facilities including acute care hospitals, rehabilitation hospitals, outpatient centers, skilled nursing facilities, and schools. The UMES Department of Physical Therapy currently has contractual arrangements with over 175 health care facilities in the Eastern Shore of Maryland, Baltimore, Washington, D.C. and suburbs, Virginia, West Virginia, Delaware, New Jersey, Pennsylvania, North Carolina, Colorado, and Washington.
Students are required to attain and maintain current criminal background checks through an approved agency. Specific types of fingerprinting and criminal background checks may be required by clinical facilities within specific timeframes. Clinical facilities may require the assigned student to submit his or her criminal background report for review by the facility as a security measure prior to a Clinical Affiliation or Clinical Practicum assignment.
Students may be required to submit results of a laboratory drug screening (urinalysis) as required by specific clinical facilities prior to a Clinical Affiliation or Clinical Practicum assignment.