Samuel Singleton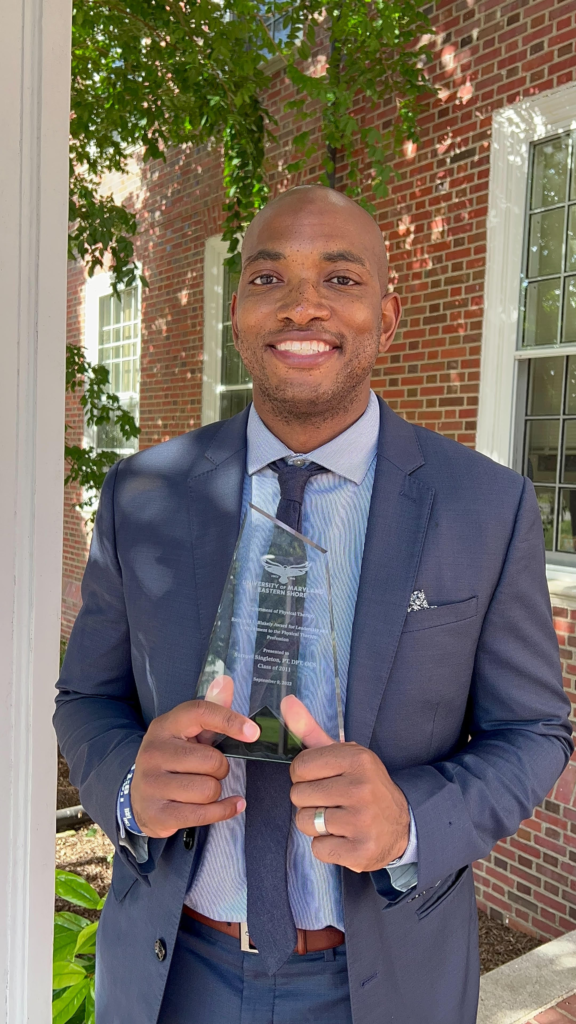 Samuel Singleton, PT, DPT, OCS, graduated from Salisbury University in 2008 with a Bachelors in Science with a minor in chemistry. He then attended our DPT and graduated in 2011. I can still vividly remember interviewing Sam. He is currently a clinic manager for AdventHealth Sports Medicine and Rehabilitation in Orlando, FL. Dr. Singleton treats a diverse young athletic population ranging from 10 years old to 55. The majority of his patients are high school collegiate or professional post-surgical athletes. He is a ABPTS Board Certified Specialist in Orthopedics and most recently just sat for his sports clinical specialist board certification and awaiting his results.
His professional mission and vision is to provide evidence-based care in order to help my patients reach their maximum function and return back to enjoying their lives.
Contributions to Educating PTs and PT students

Sam has made and continues to make significant contributions to the education of physical therapists and physical Therapy students. He demonstrates his commitment to the profession in many ways.
Sam has demonstrated his commitment to our profession through being an orthopedic physical therapy resident at AdventHealth Sports Medicine. Pursuing a specialization in PT and becoming a resident usually includes a salary reduction and increased time commitment to continued study, projects, papers, as well as working with a mentor. After Sam graduated
from his residency program, he was hired as a staff physical therapist and his supervisor (Doug Allen) said in his nominating letter that Sam immediately became an informal leader in his clinic. After being in this position for several years he was promoted to clinic manager because of how he has demonstrated exceptional leadership and a passion for the field of physical therapy.
Sam continues to give back to the profession and the residency program by becoming a mentor for the new residents. He mentors 2 residents every year or resident cycle.
Sam also volunteers his time providing sports medicine coverage for a local high school and I was told has developed meaningful relationships with the coaches and athletes.
Furthermore, his commitment to the profession is demonstrated by the fact that he is seeking more knowledge and skills by working towards a manual therapy certification from the North American Institute of Orthopedic Manual Therapy.
Doug Allen, Senior Manager at AdventHealth and Program Director of the Orthopedic Residency said in his nominating letter that: Awards are earned and not given and Sam has worked hard in our profession and has given back through his volunteering and mentoring of others.
In addition to treating patients, teaching and supervising orthopedic clinical residents, being a clinical manager and volunteering for sports coverage at local high schools, being a husband and father of 3 boys, he is an Adjunct Clinical Professor for Southwest Baptist University where is active with their Global Health Team. He has been an integral part of 5 more Global health teams, traveling to various resource-poor locations including Peru, Brazil, Haiti, Dominican Republic, and Zambia. These trips are all on a strictly volunteer basis, so Sam has volunteered his time and funded his trips himself. They typically have 4-10 current entry-level DPT students from Southwest Baptist participating in these trips, along with a few faculty members and professionals like Sam. Sam Singleton – the Adventurous Traveling Physical Therapist
Dr. Beverly McNeal Professor in the Physical Therapy Program at Southwest Baptist University and Coordinator of the Global health Program said in her nominating letter that: Sam has served as an exemplary mentor to the students on every trip, with his outstanding professional skills and behaviors.
He has consistently displayed an extremely compassionate and sensitive heart for the mission and the people whom he served with Physical Therapy services.
Sam has a great servant attitude. He is just a delight to be around and is always a positive influence on everyone around him.
Additionally, he has always sincerely sought my feedback on his service, skills, and student teaching abilities. He clearly wants to learn and grow as a professional.
His solid PT skills, his patient and gentle ability to teach and guide students, as well as his heart of service makes him a great candidate for this award. I believe that Sam has the knowledge and drive to become an exemplary leader in the field of PT. His potential impact in our field is immeasurable.
Congratulations to Sam Singleton the recipient of the 2022 Raymond L. Blakely Alumnus Award for Leadership and Commitment to the Physical Therapy Profession