Frequently Asked Questions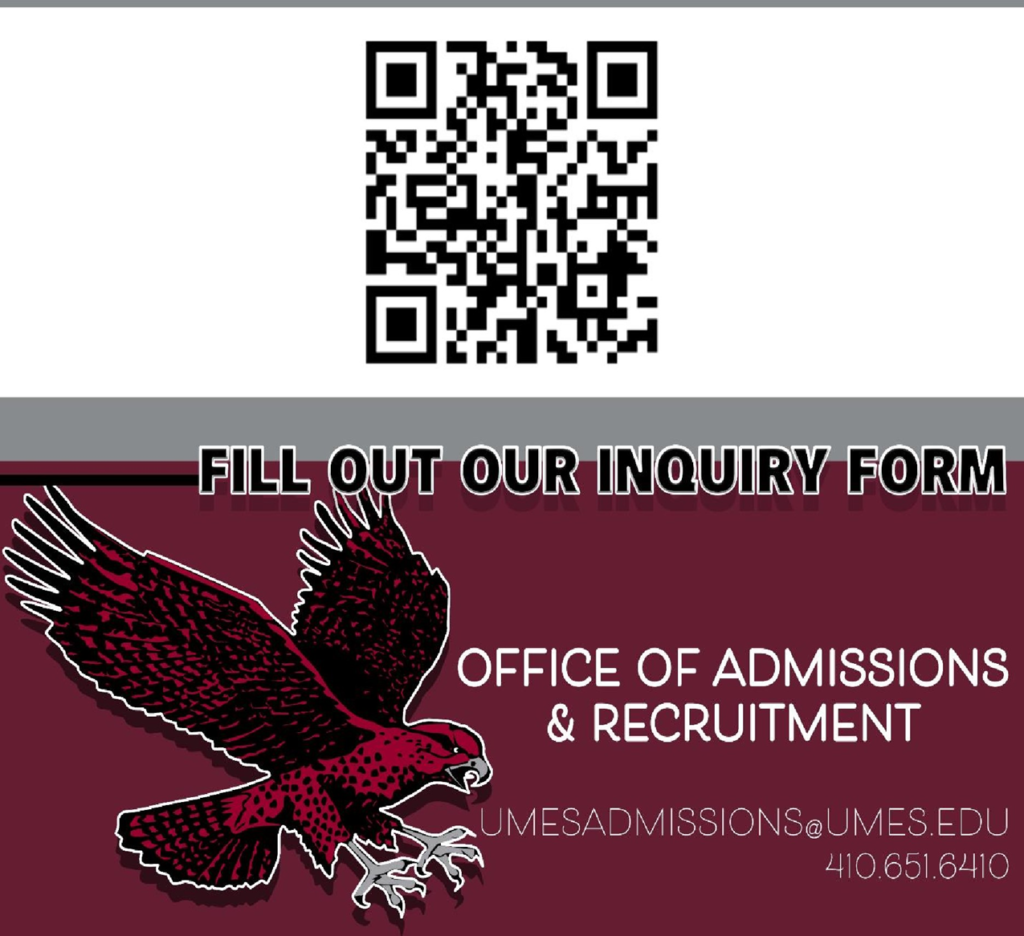 Application Process
What do I need for my application to be complete?

For an application to be considered complete, our office must receive the following:

an online application via Common App, Black Common App, or the UMES standard application
a nonrefundable application fee of $35.00
an official copy of high school and/or college transcripts

OPTIONAL:

Your official standardized test scores (ex. SAT or ACT)
Letters of recommendation
A personal statement

Please note, only completed applications will be reviewed and receive an admission decision.
What is the application deadline?

The fall priority deadline is February 15th, the fall commitment deadline is May 1st. The spring deadline is December 1st. However, UMES continues to evaluate applications on a space-available basis.
How do I submit a personal statement and letters of recommendation?

Once you have completed an application and submitted it, you can email personal statements (250 words or less) and letters of recommendation to umesadmissions@umes.edu. You can also fax the documents to (410) 651-7922. Please be sure to include your first name, last name, and birth date in the email or fax.
Transfer Students
What are the requirements for a transfer student?

In order to be considered a transfer student, you must have earned 24 college credits and have a 2.0 GPA.
How do I find out which classes transfer?

A: After you submit an application at www.umes.edu/apply, an official transcript must be sent to us from any higher education institution you have attended. Once the transcript(s) from the institution(s) has been received, we will evaluate your eligibility for admission. Transcript(s) will then go to the Registrar's Office and a Transfer Credit Evaluation will be done. Once the Registrar's Office has determined which credits/ classes transfer, they will send you a copy of this Transfer Credit Evaluation and they will also post it in your HawkWeb Student Service Center.
What if I have earned less than 24 college credits?

If you have earned less than 24 college credits, you must provide a copy of your high school transcript(s) along with your application.
Admitted Students
What are my next steps after I've been admitted?

To ensure a smooth transition, please make sure you complete all of the checklist items below:

Celebrate your admission!
Confirm your enrollment (the link to confirm your enrollment can be found in your FutureHawk Portal)
Complete your Health and Immunization form. (All students and staff will be required to provide proof of COVID-19 vaccination or medical/religious exemption).
Submit your FAFSA application. Our FAFSA federal school code 002106. (For questions about financial aid, please contact the Office of Student Financial Aid at 410-651-6172. You must complete and submit the FAFSA in order to be considered for financial aid and certain scholarships.)
Verify your residency information. If you believe you are in-state and have been classified otherwise, contact us.
Complete your housing reservation online using the following steps:

Log in to MyUMES (www.my.umes.edu) on a computer (not a mobile device)
Click on the Hawkville icon (the maroon icon that has the image of a bed/house)
Select and complete the correct application
Pay the $300 deposit with a debit/credit card

Contact your high school counselor or previous institution to submit your final transcripts electronically. (Official final transcripts are required before you can attend class).
Do admitted students have to submit a deposit?

Yes, UMES does require a $100 non-refundable enrollment deposit. Additionally, if you plan to stay on campus, you will have to submit a housing deposit when you submit your housing application.

Just log in to your FutureHawk portal then complete and submit the Enrollment Form and deposit (located within the Enrollment Checklist).
International Students
How do I know if I am classified as an international student?

International applicants are students who do not hold United States citizenship or resident alien status. If you fit this classification, you should apply as an international student.
What are the steps to apply as an international student?

The Office of Admissions & Recruitment requires the following information from an international applicant to be considered for undergraduate admission:

A completed admissions application with a non-refundable $35.00 application fee in U.S. dollars. To start an international payment for your tuition and fees through Flywire, visit umes.flywire.com.
An official evaluation of all academic records (credential evaluation) from SPANTRAN. Please request a course-by-course evaluation including a grade point average (GPA). The evaluation should be accompanied by an official copy of each academic record.
SpanTran Request Form for UMES
Official scores to confirm English proficiency IELTS (http://www.ielts.org/), TOEFL (http://ets.org/toefl) scores, PTE (https://pearsonpte.com/), or Duolingo English Test.
For more information, please contact our DSO Denitta Gladding, Admissions Specialist Telephone: (410) 651-6416 Email: dgladding@umes.edu
Conditional admission is not offered for applicants whose scores do not meet the minimum required scores or for those who do not have scores to submit. The scores should be no more than two years old.
An official copy of the test results from taking either the SAT I or ACT.
A certificate of finance along with a bank statement bank or scholarship letter, no more than six months old, addressed to the University of Maryland Eastern Shore verifying the availability of funds to cover tuition, fees, and other direct costs associated with enrolling at the university. For a list of estimated costs of attendance, please visit the Office of Financial Aid or Student Accounts.
Have other questions? Can't find the answers you were looking for? Contact the Office of Admissions & Recruitment and we would be happy to help.
Hours of Operation:
Monday-Friday: 8:00 am-4:30 pm
Phone: 410-651-6410
Email: umesadmissions@umes.edu
Keep up with the Hawk Family on social media!