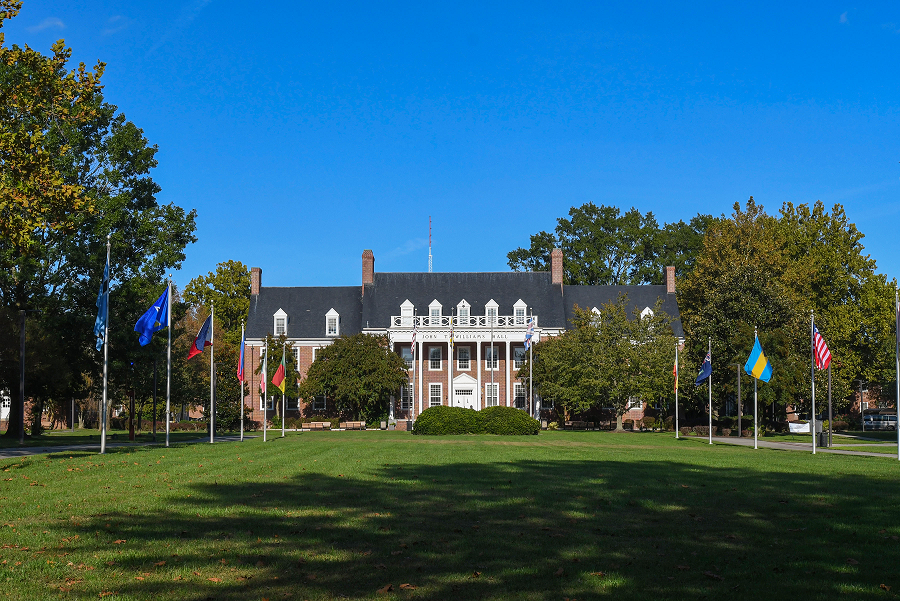 PRINCESS ANNE, MD – May 12, 2021 – The U.S. Department of Agriculture's National Institute of Food and Agriculture announced today that the University of Maryland Eastern Shore is one of four 1890 land-grant institutions set to receive funding from its total investment of $5.76 million reserved for 1890 Centers of Excellence grants.
"The 1890 Centers of Excellence awards are an effort to increase rural prosperity and economic sustainability of food systems in underserved farming communities," said NIFA director Dr. Carrie Castille. "These grants will support projects that address critical needs for developing global food security and defense; enhancing academic and career activities for students pursuing careers in food and agricultural sciences; and addressing vital needs in nutrition and health to improve the quality of life of underserved populations."
UMES will develop the 1890 Universities Center of Excellence for Global Food Security and Defense to foster international partnerships that strengthen agricultural development in developing countries and engage international researchers in addressing new and emerging animal and plant diseases, and agricultural disaster recovery.
"We count it a privilege to be named among the four 1890s entrusted with leading Centers of Excellence on behalf of all 1890 land-grant institutions," said Dr. Heidi Anderson, UMES president and member at-large of the Council of 1890 Universities. "We are indebted to Rep. Alma Adams (D-NC) and Senator Sherrod Brown (D-OH) for their role in writing the 1890 Centers of Excellence provision that was included in the 2018 Farm Bill. In addition, we are grateful to Rep. Sanford Bishop (D-GA) and Senators John Hoeven (R-ND) and Jeff Markley (D-OR), along with other congressional agriculture leaders in the House and in the Senate, for their help in seeing the funding through."
UMES joins Tuskegee University (Center for Farming Systems, Rural Prosperity and Economic Sustainability), Southern University (Center of Excellence for Nutrition, Health, Wellness, and Quality of Life) and North Carolina A&T State University (1890 Center of Excellence for Student Success and Workforce Development) in providing leadership and working collaboratively with the 1890s in its respective area of excellence.
"We are delighted to have this opportunity to coordinate concerted efforts that bring together all nineteen 1890 universities to address critical issues around food security and defense as well as the development of talent to fulfill the nation's need for a skilled workforce to operate in a global workplace," said Dr. Moses Kairo, dean of the UMES School of Agricultural and Natural Sciences. "Together, the nineteen universities have unique capacities to bring to bear on these issues; and based on UMES' previous experiences in international development, the university is well-positioned to provide the necessary coordination to ensure effective and efficient implementation of the center's activities."
About NIFA:
NIFA invests in and advances agricultural research, education, and Extension across the nation to make transformative discoveries that solve societal challenges. NIFA supports initiatives that ensure the long-term viability of agriculture and applies an integrated approach to ensure that groundbreaking discoveries in agriculture-related sciences and technologies reach the people who can put them into practice. In FY2020, NIFA's total investment was $1.95 billion.
Visit the website: www.nifa.usda.gov; Twitter: @USDA_NIFA; LinkedIn: USDA-NIFA. To learn more about NIFA's impact on agricultural science (searchable by state or keyword), visit www.nifa.usda.gov/impacts.
About the Land-Grant Mission
One of the strongest identifying characteristics of UMES is its status as an 1890 Land-Grant Institution. The Second Morrill Act of 1890 was enacted to grant land to select historically black institutions of higher education to educate citizens of color. Hence, the 1890 institution. Today, nineteen 1890 institutions share the common goal of producing graduates who contribute to the world while conducting research and extension programs that address critical challenges. The land-grant mission at UMES serves to improve the standard of living and the quality of life for diverse populations, including limited-resource persons. Visit https://www.umes.edu/home/

###

Suzanne Waters Street, agricultural communications specialist, School of Agricultural & Natural Sciences, 410-651-6084, sstreet@umes.edu.