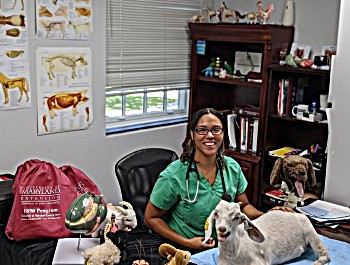 PRINCESS ANNE, MD – (September 10, 2021) – University of Maryland Eastern Shore veterinarian Dr. Kimberly Braxton is pleased to announce a partnership between UMES and the Ross University School of Veterinary Medicine. In addition to serving as the campus vet, she is an alumna and assistant professor who provides options to students following the path she took as a pre-vet graduate – a path to a veterinary medical school.
In an effort to increase diversity in the veterinary profession, RUSVM has expanded its Ross Vet Articulation Partner Scholarship initiative for Hispanic Serving Institutions and Historically Black Colleges and Universities. The initiative, which is offered through a growing number of partnerships, now includes UMES. Scholarships are available to students who intend to begin the Doctor of Veterinary Medicine degree program during the 2021-22 academic year.

"I know the importance of mentorship and opportunity, especially when it relates to being a minority in a profession like veterinary medicine," Braxton said. "UMES was where I gained countless opportunities that put me on the right career path early. If I can provide that for my students, whether through advice, networking events or partnerships like this one with RUSVM, I believe I owe it to not only my profession but also to my mentors. This partnership is another door of opportunity, allowing pre-vet students to get one step closer to achieving their career goals of becoming a veterinarian."
The scholarship offering builds on RUSVM's dedication to supporting educational access for students of diverse backgrounds. The partnership means UMES will be able to provide more options for pre-vet students as well as contribute to increasing diversity. At RUSVM, more than 30% of students enrolled last year identified as a person of color, compared to about 20% nationally as reported by the Association of American Veterinary Medical Colleges[1]. RUSVM's partnerships to date include Farleigh Dickinson University and Saint Peter's University, which are both HSIs, and the following HBCUs: Dillard University; Prairie View A&M; North Carolina A&T State University; and University of Maryland Eastern Shore.
"This articulation partner scholarship is another notable example of how RUSVM is committed to diversifying the veterinary medicine workforce," said Sean Callanan, dean of RUSVM, MVB, CERTVR, MRCVS, PHD, FRCPATH, DIPLECVP. "By partnering with institutions and organizations that serve a diverse population of students, we can not only create career opportunities for underserved students, but also improve representation in the communities they go on to serve."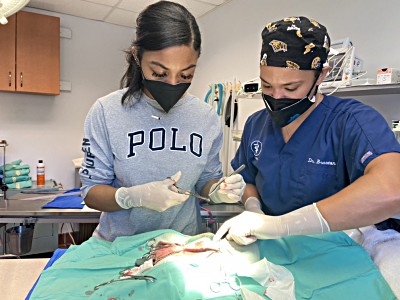 The three-semester partial scholarship is equal to one total semester of tuition and includes a flight credit* to St. Kitts, West Indies, and housing on campus at no cost for the first semester. Up to 15 scholarships are available for the 2021-22 academic year for applicants from RUSVM's HSI and HBCU partner institutions. RUSVM continues to create pathways for underrepresented students to pursue their DVM. RUSVM, supported by its parent company Adtalem Global Education, also recently announced a partnership with Minorities in Agriculture, Natural Resources and Related Sciences (MANRRS), which also includes up to three scholarships for the 2021-22 academic year offered to underrepresented students in the veterinary medicine field.
At UMES, the Department of Agriculture, Food and Resource Sciences prepares students for careers in veterinary medicine. The pre-vet program currently graduates an average of 5 to 7 students per year. To learn more about the department, visit www.umes.edu/agriculture.
About Ross University School of Veterinary Medicine
Ross University School of Veterinary Medicine is an institution of Adtalem Global Education. Founded in 1982, RUSVM is committed to preparing students to become members and leaders of the worldwide public and professional healthcare team and to advance human, animal and ecosystem health (One Health Initiative). RUSVM offers postgraduate Masters', Ph.D. and Doctor of Veterinary Medicine programs accredited by the St. Christopher & Nevis Accreditation Board. Ross University School of Veterinary Medicine confers a Doctor of Veterinary Medicine degree, which is accredited by the American Veterinary Medical Association Council on Education, 1931 N. Meacham Road, Suite 100, Schaumburg, IL 60173, Tel: 800.248.2862. Ross Veterinary Clinic is accredited by the American Animal Hospital Association. For more information visit  http://veterinary.rossu.edu and follow RUSVM on Twitter (@RossVetSchool ), Instagram (@rossvetschool) and Facebook (@RossVetSchool).

About Adtalem Global Education
Adtalem Global Education, a leading workforce solutions provider, partners with organizations in the healthcare and financial services industries to solve critical workforce talent needs by expanding access to education, certifications and upskilling programs at scale. With a dedicated focus on driving strong outcomes that increase workforce preparedness, Adtalem empowers a diverse learner population to achieve their goals and make inspiring contributions to the global community. Adtalem is the parent organization of ACAMS, American University of the Caribbean School of Medicine, Becker Professional Education, Chamberlain University, EduPristine, OnCourse Learning, Ross University School of Medicine, Ross University School of Veterinary Medicine and Walden University. Adtalem has more than 10,000 employees, a network of more than 275,000 alumni and serves over 82,000 members across 200 countries and territories. Adtalem was named one of America's Most Responsible Companies 2021 by Newsweek and one of America's Best Employers for Diversity 2021 by Forbes. Follow Adtalem on Twitter (@adtalemglobal), LinkedIn or visit adtalem.com for more information.
[1] https://www.aavmc.org/wp-content/uploads/2021/05/2021-AAVMC-Annual-Data-Report.pdf
* Not available in Alabama
Media Contacts:
Suzanne Street, Agricultural Communications Director, University of Maryland Eastern Shore, School of Agricultural and Natural Sciences, sstreet@umes.edu, 410-651-6084.

Anna Cearley-Rivas, Adtalem Global Education, Anna.Cearley-Rivas@adtalem.com, 872-310-6410.
Investor Relations Contact:
John Kristoff, John.Kristoff@Adtalem.com, 312-651-1437.