You may already know that Dr. Kausik Das is a physics professor in the University of Maryland Eastern Shore's Department of Natural Sciences, but did you know he is an artist as well?  Das and his family were invited artists to the 80th National Folk Festival in Downtown Salisbury September 10-12 to demonstrate a Hindu art form passed from generation to generation for thousands of years.  The event, scaled back this year due to COVID-19, drew an estimated 150,000 people in 2019.
Das, his wife, Archita, and children, Arya and Oishani, are keeping their West Bengal, India heritage alive by practicing the freehand art rangoli. Derived from the Sanskrit word meaning "rows of colors," intricate, colorful designs are created on the floor using colored rice, flowers, powders, paints or colored sand. Typically, he said, the art adorns entrances to temples, altars or houses during religious festivals and as decoration for weddings, births and other important family events. Rangoli is a symbol of prosperity or good luck.
"There is a deeper message in these art forms," Das said.  "None of the elaborate and detailed artworks are permanent. They are created with love, attention to details, affection and prayers, knowing very well that they will be destroyed afterwards. This a life lesson and a metaphor we learn from our childhood. The inner message is to build your life one grain at a time. Decorate it with color and make it beautiful with utmost care, sincerity, love and perfection, but know that it's a transient impermanent world and don't get too attached to it. Attachment brings desire and desire brings misery. So, focus on the process and not on the outcome – that's what we teach our children."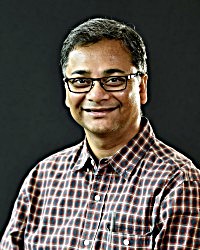 Das received overwhelming feedback from the festival-goers and credited the Ward Museum of Salisbury University and event organizers for the opportunity to showcase the tradition at the National Folk Festival. A group of teachers that visited Das' exhibit said that they intend to use rangoli and the philosophy behind it in their classrooms to teach youth mindfulness through art. They were further impressed that the ingredients, including the edible food coloring, come from natural sources so that the grains can be fed to birds afterwards and the planet won't be fouled by inorganic waste.
Gail Stephens, agricultural communications, School of Agricultural and Natural Sciences, gcstephens@umes.edu, 410-621-3850.