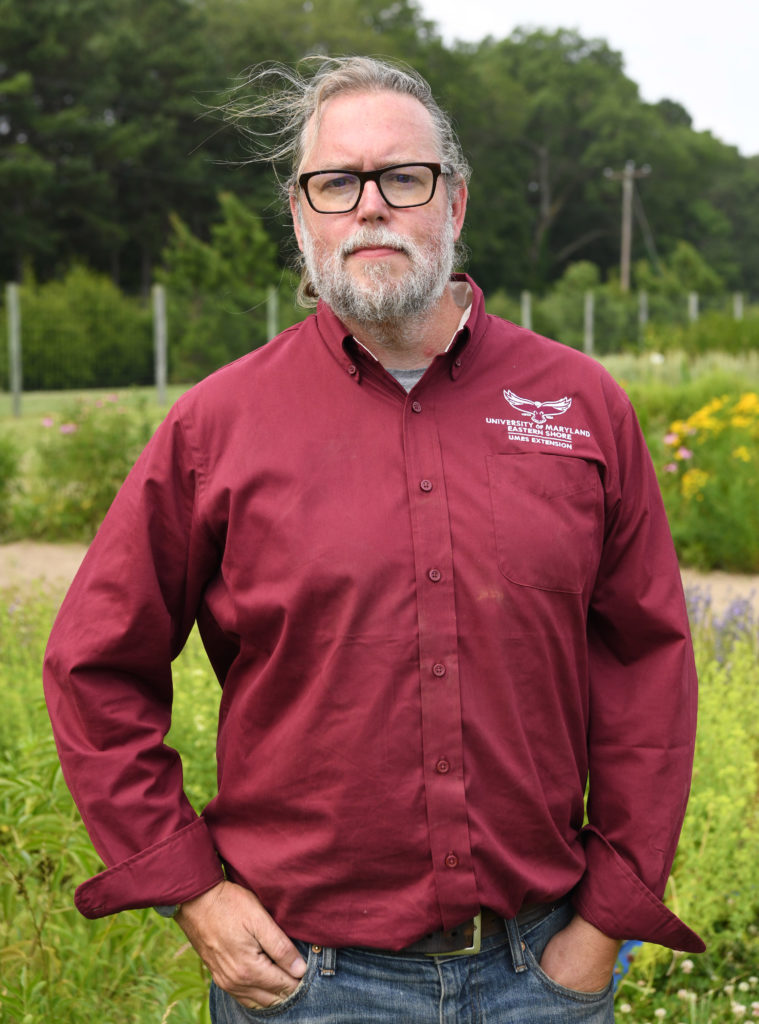 UMES Extension has made an impact in beginning farmer Stephen Goewey's life. Goewey is getting hands-on experiences and learning the "field" this summer at the UMES Research, Extension and Teaching Farm as an intern with the Specialty Herb Program sponsored by Future Harvest. The intersections with UMES and its partners have been interesting, he said. His dream of owning and managing his own farm has been "brewing for several years."
Goewey's aha moment happened a few years ago when he attended a Future Harvest workshop on medicinal herbs led by Henriette den Ouden of Habenara Farms (currently a UMES Extension specialist in herbs). He followed up by applying to its Beginning Farmer Training Program, but new student acceptance was put on hold due to the pandemic.
The thought of being a farmer stayed in the back of his mind, so he came to campus to attend UMES' Small Farm Conference. He connected with Future Harvest's beloved late field school director, Niamh Shortt, who encouraged him to reapply to the internship program.
This time, he got accepted. Over the pandemic, his house in Silver Spring was "getting smaller by the minute" as he and his wife struggled to maintain some semblance of a normal existence working remotely while helping their young twins attend school online, a routine many Americans experienced at the time.
They would hear the Eastern Shore calling, as it would put them closer to family in Worcester County. Goewey and his wife put the "For Sale" sign in their yard and used the proceeds to buy a 6-acre historic (1804) farm, Catalpa Farm, and relocated to Princess Anne.
Goewey completed his first year of the program, which primarily involved workshops and online training, and is now on the second year internship assigned to UMES Extension. Here, he is learning human scale production, including bed preparation and the true costs of production by monitoring time, marketing and yield.
For example, chamomile sells for $100/lb. but it "might take you 10-12 hours to get to that $100/lb." He said a grower has to realize it has to be harvested and dried by hand.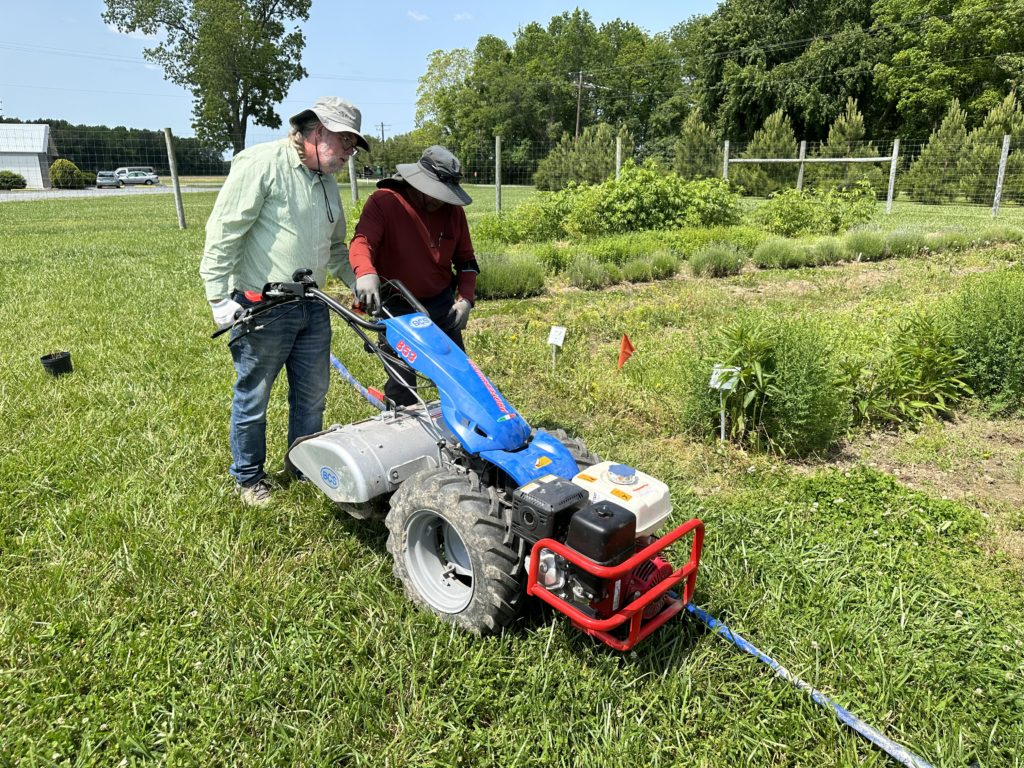 How has UMES Extension helped him establish his small farm?
"A lot of it is connections to experts in the field and access to resources and workshops that are geared toward small farmers," Goewey said. "It's great. For example, I can contact an extension specialist like Henriette if I have a question about herbs, Dr. (Nadine) Burton for specialty crops, or Dr. (Naveen Kumar) Dixit if it is related to fruits and orchard production. Even my children have benefited through the 4-H Program."
As for the advice he would give fellow beginning farmers: Attend as many agricultural events and workshops as you can. "I'm an introvert, so if I can do it, so can others," he said.
Goewey suggested attending UMES' Small Farm Conference in November to "see what it's (farming) really like." You can meet people that are similar to you, he said, and those who are not like you to give you different perspectives. Also, you can gather information before embarking on your plan.
"My first year, I concentrated on observing the land," Goewey said. "It was a good call because many of my assumptions were wrong, like areas to successfully grow certain crops." This year, he said, he is growing market vegetables and his plan is to "see if I can grow out to scale and focus on finding markets to make sales."
Gail Stephens, agricultural communications and media associate, University of Maryland Eastern Shore, School of Agricultural and Natural Sciences, UMES Extension, 410-621-3850, gcstephens@umes.edu
Photos by Todd Dudek, UMES Ag Communications, below, clockwise:
Stephen Goewey and his wife, Ali, bought Catalpa Farm in 2021 and are returning it to its original purpose, a working farm. The farm dates to 1804 when Zadock Long purchased several tracks of land in Princess Anne. Their border collie, Ripley, according to the farm's website "was promised sheep!"
A pecan tree grows in front of what Goewey believes is one of six tobacco barns on the Lower Shore.
The farm was named after the Catalpa trees that were original to the homestead.
The property includes an old corn crib.
Goewey is growing market vegetables, has hives for honey and is making soap.