What is 4H?

Head, Heart, Hands, and Health are the four H's in 4‑H, and they are the four values members work on through fun and engaging programs.
4-H Pledge
I pledge my head to clearer thinking,
My heart to greater loyalty,
My hands to larger service,
and my health to better living,
for my club, my community,
my country, and my world.
mi corazón para ser más leal,
mis manos para ser más servicial,
mi salud para cuidarme más,
por mi club, mi comunidad,
mi país y mi mundo.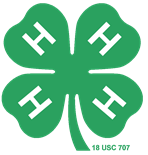 Promesa 4‑H Prometo usar mi mente para pensar con más claridad,
MOTTO:
"To Make The Best Better"
NATIONAL 4‑H COUNCIL
Our mission: increase investment and participation in 4‑H programs so we can support the next generation of young true leaders.
Go To National 4-H Council to learn more about the history and more information about 4-H.