Refund
Important 1098-T IRS Regulatory Changes Effective 2018
20181098T Reporting: IRS regulations require all Colleges and Universities to report Box 1-Payments Received for Qualified Tuition and Related Expenses. Box 2 reporting is no longer allowed as an option.

2017 1098T Reporting and Prior: University of Maryland Eastern Shore included the amount in Box 2 that represented the qualified tuition and related expenses (QTRE) we billed to your student account for the calendar (tax) year. Box 1 was blank for all students.

Important Information regarding payments Payments received in our Student Accounts Office via regular mail (paper checks) on or before December 19, 2018 will be posted to your account in 2018 and reported on your 2018 Form 1098-T. Payments received after December 19, 2018 will not be reported on the current
year 1098-T due to the necessary processing time prior to the University closure December 24, 2018 – January 1, 2019.

Electronic payments made via Hawk Web Student Center Portal will continue to be processed on the student's account on the date the payment is made.
The University populates box 1 (payments received for qualified tuition and related expenses) and box 5 (scholarships or grants). It is the student's responsibility to determine tax liability. IRS Publication 970 and the newly developed Interactive Tax Assistant will provide some additional information and guidance.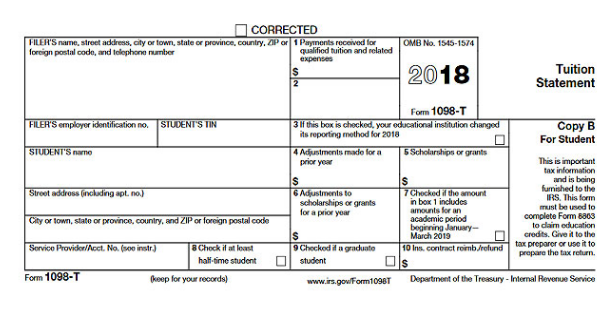 You may be eligible for education tax credits if you are paying education costs for yourself or a member of your immediate family. IRS Form 1098-T is an informational tax document that will enable you to determine if you qualify. The enrollment and financial information is also provided to the Internal Revenue Service (IRS).
The University of Maryland Eastern Shore is required to provide the IRS Form 1098-T for all enrolled students, with the exception of:
Students who are enrolled in courses for which no academic credit is offered, even if the student is enrolled in a degree program.
Nonresident alien students.
Students whose qualified tuition and related expenses are entirely covered or paid with scholarships and/or grants.
Students whose expenses are covered by a third party billing arrangement.

To access your 1098-T, click https://heartland.ecsi.net/index.main.html#/access/lookup
You will type in your school name and then be asked to verify your identity. You will do this by entering in your first name, last name, social security number, and zip code. Your entries must match what is on your 1098-T form, or else you will not be able to access your form.
If you have questions, please contact the Call Center at 866-428-1098.​