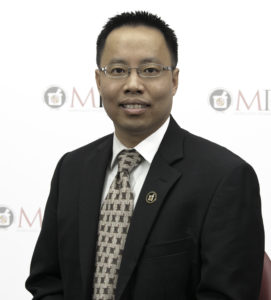 Hoai-An Truong, PharmD, MPH, FAPhA, FNAP
Professor, Pharmacy Administration and Public Health 
Education
Master of Public Health (2007) – University of Maryland School of Medicine, Baltimore, MD
APhA-ASHP Accredited Post-Graduate Residency Training in Pharmacy Practice with an Emphasis in Community (2006) – University of Maryland School of Pharmacy, Baltimore, MD and Happy Harry's Pharmacy, Perryville, MD
Doctor of Pharmacy (2005) – University of Maryland School of Pharmacy, Baltimore, MD
Pre-Pharmacy with Concentration in Biochemistry (2001) – The Catholic University of America, Washington, DC
Bio
Dr. Truong has been public health pharmacist and educator over thirteen years. He provided patient-centered care in interprofessional clinics to optimize medication use and health outcomes, as well as developed and implemented population-based programs to improve community health. He has served as coordinator and preceptor for pharmacy, physical therapy, physician assistant, and public health students on five medical missions to Haiti and Vietnam.
Currently professor and director of public health at University of Maryland Eastern Shore (UMES) School of Pharmacy and Health Professions, Dr. Truong was founding chair of the Eastern Shore Collaborative for Interprofessional Education (ESCIPE), an interprofessional, inter-institutional initiative with Salisbury University. Previously, he was founding chair of the department of pharmacy practice at West Coast University School of Pharmacy, founding assistant dean for professional affairs at UMES, and assistant then acting executive director of experiential learning program at University of Maryland Baltimore. Hoai-An was also clinical coordinator/pharmacist at Happy Harry's a Walgreens Pharmacy Patient Care Center. As a practitioner-educator, he provided medication management to improve healthcare access for underserved populations in interprofessional clinics of the Primary Care Coalition. The team received a Life-saving Patient Safety Award and was featured in Pharmacy Today magazine in 2012. He is also a trainer for the American Pharmacists Association's medication therapy management national certificate program and trained over 600 pharmacists.
Dr. Truong published over twenty peer-reviewed articles and book chapters and presented at multiple national and international conferences. He is co-editor and co-author of a book, The Pharmacist in Public Health: Education, Application, and Opportunities, published by the American Pharmacists Association in 2010. He is past chair of the Public Health Special Interest Group (PHSIG) of the American Association of Colleges of Pharmacy (AACP). He is past president of the Maryland Public Health Association, past president of the Maryland Pharmacists Association, and past president of the Alumni Association of the University of Maryland School of Pharmacy. Hoai-An received the Excellence in Public Health Pharmacy Practice Award from the U.S. Public Health Service, Excellence in Innovation Award from the Maryland Pharmacists Association, and was inducted as a Fellow of the American Pharmacists Association and Fellow of the National Academies of Practice.
Areas of Interest and Experiences
Health Promotion and Disease Prevention
Interprofessional Education and Practice
Global Health and Medical Mission
Leadership and Professional Development