Department of Human Ecology Didactic Program in Dietetics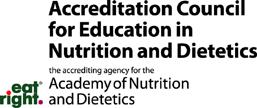 University of Maryland Eastern Shore's Didactic
Program in Dietetics (DPD) is accredited by the
Accreditation Council for Education in Nutrition
and Dietetics (ACEND) of the Academy of Nutrition
and Dietetics (AND).

120 South Riverside Plaza, Suite 2190
Chicago, IL 60606-6995
Phone: 800/877-1600, ext. 5400
Effective January 1, 2024, the Commission on Dietetic Registration (CDR) will require a minimum of a master's degree to be eligible to take the credentialing exam to become a registered dietitian nutritionist (RDN). In order to be approved for registration examination eligibility with a bachelor's degree, an individual must meet all eligibility requirements and be submitted into CDR's Registration Eligibility Processing System (REPS) before 12:00 midnight Central Time, December 31, 2023. For more information about this requirement visit CDR's website: https://www.cdrnet.org/graduatedegree
In addition, CDR requires that individuals complete coursework and supervised practice in program(s) accredited by the Accreditation Council for Education in Nutrition and Dietetics (ACEND). Graduates who successfully complete the ACEND-accredited DPD program are eligible to apply to an ACEND-accredited supervised practice program and upon completion may apply to take the CDR credentialing exam to become an RDN.
In most states, graduates also must obtain licensure or certification to practice.
For more information about state licensure requirements click here, https://www.cdrnet.org/state-licensure
For more information about educational pathways to become a RDN click here, https://www.eatrightpro.org/acend/students-and-advancing-education/information-for-students
For more detailed information about the UMES dietetics program, please see the links for download below:
UMES DPD HANDBOOK AND CURRICULUM COURSE SEQUENCES (For Download)
Dietetics Recommended Course Sequence 2023-2024
Dietetics Recommended Course Sequence 2020-2022
Dietetics Recommended Course Sequence 2017-2019
Dietetics Recommended Course Sequence 2015-2017


DPD PROGRAM MISSION, GOALS AND OBJECTIVES
Mission: To provide an engaging learning environment that fosters a desire for improving the quality of life for diverse communities and prepares students for supervised practice, leading to eligibility for the Commission on Dietetic Registration (CDR) credentialing exam to become a Registered Dietitian Nutritionist (RDN).
Goal 1: The DPD program will prepare graduates with the knowledge and skills for successful entry and completion of supervised practice.
Objective 1.1: At least 80% of program students complete the program/degree requirements within 3 years (150% of the program length)
Objective 1.2: 50% of DPD graduates apply for admission to a supervised practice program prior to or within 12 months of graduation.
Objective 1.3: 50% of program graduates are admitted to a supervised practice program within 12 months of graduation.
Objective 1.4: 50% of graduates who respond to the senior exit survey will report that they are satisfied with the DPD program on average 3.0 or higher (5.0 scale; 5-strongly agree to 1-strongly disagree).
Objective 1.5: 50% of graduates who respond to a survey will rate that their coursework prepared them for supervised practice on average 3.0 or higher (5.0 scale; 5-strongly agree to 1-strongly disagree).
Objective 1.6: 50% of supervised practice directors who respond to a survey will rate program graduate's knowledge and preparation for supervised practice on average 3.0 or higher (5.0 scale; 5-strongly agree to 1-strongly disagree).
Goal 2: The DPD program will prepare graduates to become competent entry-level Registered Dietitian Nutritionists.
Objective 2.1: The program's one-year pass rate (graduates who pass the registration exam within one year of the first attempt) on the CDR credentialing exam for Dietitian Nutritionists is at least 80%.
Objective 2.2: 50% of program graduates will be employed in dietetics, foods and nutrition, or a related area within 12 months of completing supervised practice.
DPD OUTCOMES DATA
Program outcomes data are available upon request. Contact the DPD Director, Robin Gould MS, RD, LDN, at rlgould@umes.edu.
DIETETICS CONCENTRATION – DIDACTIC PROGRAM IN DIETETICS
The Dietetics concentration curriculum is based on accreditation requirements outlined by ACEND. The course offerings are periodically revised by the Department and University curriculum committees and are sequenced to provide experiences that become increasingly complex and build upon previous knowledge and experiences. Supporting courses are selected to provide prerequisite knowledge for professional courses. Students combine classroom experiences with field experiences in clinical, foodservice and community settings. Additional related field experience is recommended. Program graduates with a 2.75 GPA or higher are eligible to obtain a Verification Statement that provides eligibility to apply for an ACEND accredited supervised practice program, which is referred to as a dietetic internship. Once graduates successfully complete a dietetic internship, they are eligible to sit for the national dietetic registration examination and the examination requirements are set by the Commission on Dietetic Registration (CDR). After the individual passes the national examination, they will become a RDN. Some states may require you to become licensed (Maryland requires licensure).
It is important to note that successful completion of the Didactic Program in Dietetics and receipt of a Verification Statement does not guarantee acceptance into a dietetic internship. Students who successfully complete the knowledge requirements, as outlined by ACEND, but DO NOT enter and complete a dietetic internship are qualified to sit for the Registration Examination to become a Nutrition and Dietetic Technician, Registered (NDTR).For more information about becoming an RDN and/or NDTR, please visit: https://www.eatrightpro.org/about-us/what-is-an-rdn-and-dtr/rdn-and-ndtr-overview

RDNs work in: Hospitals, clinics or other health-care facilities; sports nutrition and corporate wellness programs; food and nutrition-related business and industries; private practice; community and public health settings; universities and medical centers teaching about food and nutrition; research areas in food and pharmaceutical companies, universities and hospitals.
Maintenance of RDN credential: In order to maintain the credential, an RDN must complete continuing professional education requirements (75 credits per 5 year cycle).

GRADUATION AND PROGRAM COMPLETION REQUIREMENTS (ISSUANCE OF A DPD VERIFICATION STATEMENT)The signed Verification Statement from the Program Director documents that an individual has successfully completed the requirements of the DPD. At UMES, issuance of a DPD Verification Statement is currently based upon maintaining a cumulative GPA of 2.75 or higher in the UMES dietetics concentration. Students must earn a grade "C" or better in all required NUDT courses, as well as, the BIOL and CHEM courses. Additionally, the student must meet all the UMES graduation requirements (minimum of 120 credits). Upon successful completion of the program, the student will also have a minor in chemistry (20 credit hours in chemistry).
ADMISSION TO THE DIDACTIC PROGRAM IN DIETETICS
Admission to UMES: Students must first apply to UMES and receive acceptance before starting the Dietetic Concentration in the Department of Human Ecology.
Undergraduate Students: https://www.umes.edu/Admissions/Pages/Freshman/
Transfer Students: https://www.umes.edu/Admissions/Pages/Transfer-Students/
Enrollment in the DPD: Students admitted to UMES must select a major and those enrolled in the Department of Human Ecology must also designate a concentration. Those students who designate dietetics as their concentration are required to follow the recommended course sequence for the DPD program.
STUDENT ADVISING PROCEDURES
Beginning in the students' freshman year or the semester in which they transfer, students will be formerly advised at least once each semester and given a copy of the DPD course sequence. This document will be used to inform the student of their academic requirements and will be a roadmap for their progression through the Dietetics concentration. Students also will have the opportunity to contact their advisor at any time during their tenure at UMES to schedule a meeting.

PROGRAM RETENTION AND REMEDIATION PROCEDURES
Students are encouraged to become involved in the Human Ecology Club and Department service learning projects. They are also encouraged to become a student member in the Academy of Nutrition and Dietetics and participate in local, state, and national meetings when possible. Students who do not maintain the required GPA are counseled and referred to the UMES Center for Access and Academic Success (academic support service). Students must repeat courses in which they have received a "D" or lower. If a student continues to have difficulty maintaining a minimum GPA of 2.75, they may be advised to consider transferring into other concentrations within the Department of Human Ecology such as Nutrition or Family and Consumer Sciences.

TRANSFER STUDENTS
Students desiring to transfer into the Department of Human Ecology from another program on campus or outside the University must have a 2.5 GPA (C+). Completion of the "Request for Change of Major" must be signed by the transferring Department Chair prior to approval by the Department for which transfer is being sought. The Department of Human Ecology Programs require that all students maintain a "C" in each course of their Program Core and Program Electives and a "C" average in General Education and Supportive Course Requirements.

TRANSCRIPT EVALUATION
Students who have attained a Baccalaureate degree or Master's Degree and wish to pursue a career in dietetics may contact the dietetic Program Director, Robin Gould, MS, RD, LDN, at rlgould@umes.edu to inquire about transcript evaluations to assess educational requirements.

GRIEVANCE PROCEDURES
Students with grievances, complaints, concerns, or problems are encouraged to speak with the Program Director. If the problem cannot be resolved at this level, the student should put the grievance in writing and make an appointment with the Department Chair to discuss the problem. To reach the Department Chair, please dial 410-651-6055. When possible, student concerns are handled at the Department level. However, the student may pursue progressive recourse through the Office of the Dean (School of Agricultural and Natural Sciences), Office of the Provost and Vice President for Academic Affairs or the Office of the President. All decisions are made in accordance with the policies and procedures outlined by the Board of Regents and the laws of the State of Maryland. Some discretionary powers may rest with the president's office, as prescribed by policies of the Board of Regents of the University System of Maryland.
The student can also contact ACEND for matters associated with accreditation grievances (phone: 800/877-1600, ext. 5400). For more information on filing complaint with ACEND, please visit the following website: https://www.eatrightpro.org/acend/public-notices-and-announcements/filing-a-complaint-with-acend
*The DPD program is responsible for keeping a confidential chronological record of all student complaints and resolutions related to ASCEND accreditation standards for a period of seven years.


UMES TUITION, FEES AND FINANCIAL AID
Tuition and Fees: https://www.umes.edu/Comptroller/Pages/Tuition-and-Fees/
Financial Aid: https://www.umes.edu/FinancialAid/

ADDITIONAL COSTS MAY INCLUDE:
Laboratory Fees:
$25.00 – $50.00
Academy of Nutrition and Dietetics student membership:
$58.00

Background checks for Practicum may cost between:
$40 and $100

Dietetic Centralized Application Service (DICAS):
$50 for 1st DI application and $25 for each additional application

D & D Digital Matching fee:
$55 registration fee to participate in the DI matching process

Individual Dietetic Internship application fee – separate from DICAS:
$50 -$100

UMES ACADEMIC CALENDAR
https://www.umes.edu/Academic/Pages/UMES-Academic-Calendars/
---
For more information contact:
Robin Gould, MS, RD, LDN
Director, Didactic Program in Dietetics
University of Maryland Eastern Shore
Department of Human Ecology
2109 Henson Center
Princess Anne, MD 21853
Phone: 410-651-6060
rlgould@umes.edu