Career Opportunities
Why learn a language, and how bilingualism can increase your pay.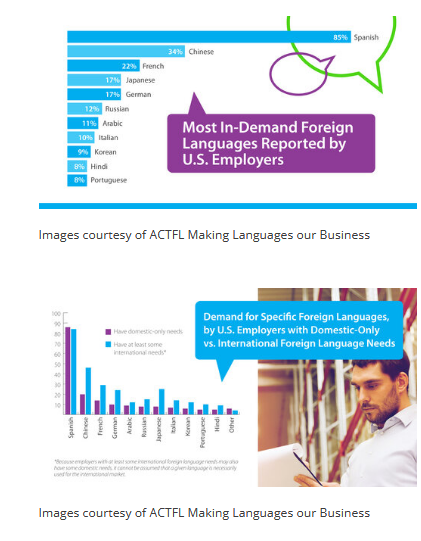 NBC News: Want the Job? Be Able to Say So in More than One Language
Helios Education Foundation: Bilingualism is Instrumental to Workforce Success
Northern Illinois University Newsroom: Bilingual college grads are in demand, says NIU survey
Lead with Languages: Using Languages in your Career
UEI College: Can Speaking Two Languages Increase Your Job Prospects?
Lifehack: 5 Foreign Languages That Will Make You The Most Money
Think Bilingual Austin: Bilinguals: The Talented Workforce for the 21st Century
Kiplinger: Best Languages to Learn to Get Ahead in Your Career
Investopedia: Languages That Give You The Best Chance To Broaden Your Career
Japan Today: How big are the benefits for bilingual speakers?
Outlook:Searching For Your Dream Job? Here's Why It Pays To Learn A Foreign Language
---
Language speakers & the economy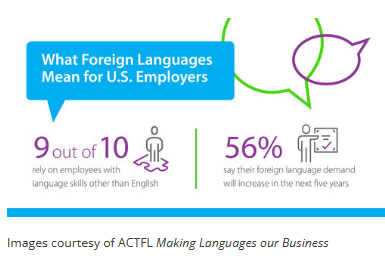 The research suggests that there is an increasing demand for multilinguals.
New American Economy: Not Lost in Translation, The Growing Importance of Foreign Language Skills in the U.S. Job Market
Dr. Patrícia Gandára, UCLA Research Professor: The Value of Bilingualism and the Seal of Biliteracy in the California Labor Market
Pew Research Center: Most European students are learning a foreign language in school while Americans lag
World Economic Forum: Speaking more than one language can boost economic growth
Quartz: People who speak multiple languages make the best employees for one big reason
Experteer.com: European Day of Languages: The Benefits of A Multilingual Workplace
University of Chicago News: Thinking in a foreign language helps economic decision-making
Huffington Post: Bilingualism a Key to Addressing Changing Workforce
ACTFL: Employability Skills + World Languages
Think Bilingual Austin: Human Capital Investment
Language Magazine: The Bilingual Advantage in the Global Workplace
Canadian Association of Second Language Teachers: Economic Advantages of Bilingualism
Lead with Languages: Making Languages Our Business: Addressing Foreign Language Demand Among U.S. Employers
Glassdoor: 4 Reasons Why Hiring Bilingual People Will Help Your Business Succeed
American Psychological Association: Andrés Consoli pushes for bilingual training of psychologists
---
Follow the links below to learn more:
https://www.actfl.org/advocacy/what-the-research-shows
http://www.telegraph.co.uk/education/educationopinion/10126883/Why-learn-a-foreign-language-Benefits-of-bilingualism.html
http://www.businessinsider.com/benefits-of-learning-another-language-2017-2
https://www.leadwithlanguages.org/wp-content/uploads/MakingLanguagesOurBusiness_FullReport.pdf