High-impact practices, or HIPs, are active learning practices that promote deep learning by promoting student engagement as measured by the National Survey on Student Engagement (NSSE). To be a high-impact practice, the experience must satisfy the definition established by George Kuh (2008, Kuh & O'Donnell, 2013) and his colleagues at the Association of American Colleges and Universities (AAC&U): achievement of deep learning, significant engagement gains, and positive differential impact on historically underserved student populations.
Based on this definition, Kuh identified ten learning experiences as high-impact practices: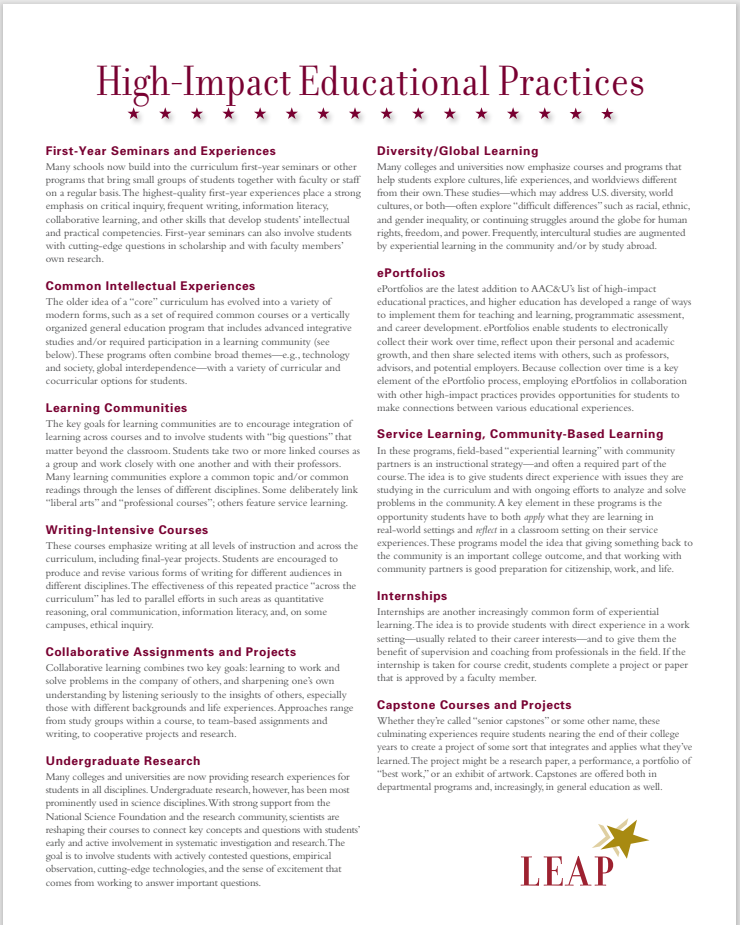 While only ten practices have nationally been elevated as high-impact practices, Kuh and O'Donnell (2013) found that these practices share eight key elements:
— Performance expectations set at appropriately high levels
— Significant investment of time and effort by students over an extended period of time
— Interactions with faculty and peers about substantive matters
–Experiences with diversity, wherein students are exposed to and must contend with people and circumstances that differ from those with which students are familiar
— Frequent, timely, and constructive feedback
— Periodic, structured opportunities to reflect and integrate learning
— Opportunities to discover relevance of learning through real-world applications
— Public demonstration of competence.
These characteristics need not be limited to the officially-designated high-impact practices. Rather, these characteristics can be used as principles to guide the design and delivery of nearly every learning experience. Doing so holds promise for reinforcing and amplifying the effects of deep learning and engagement, with particular benefit to underserved student populations.
Kuh recommends that to increase student engagement and student success, every student should participate in at least two HIPs during their academic career, but ideally every student should participate in one HIP each year in college.
____________________________________
Kuh, George D. & O'Donnell, K. (2013). Ensuring quality & taking high-impact practices to scale. Washington, DC: Association of American Colleges & Universities.
Click on the graphic for a downloadable copy.
Learn more about: