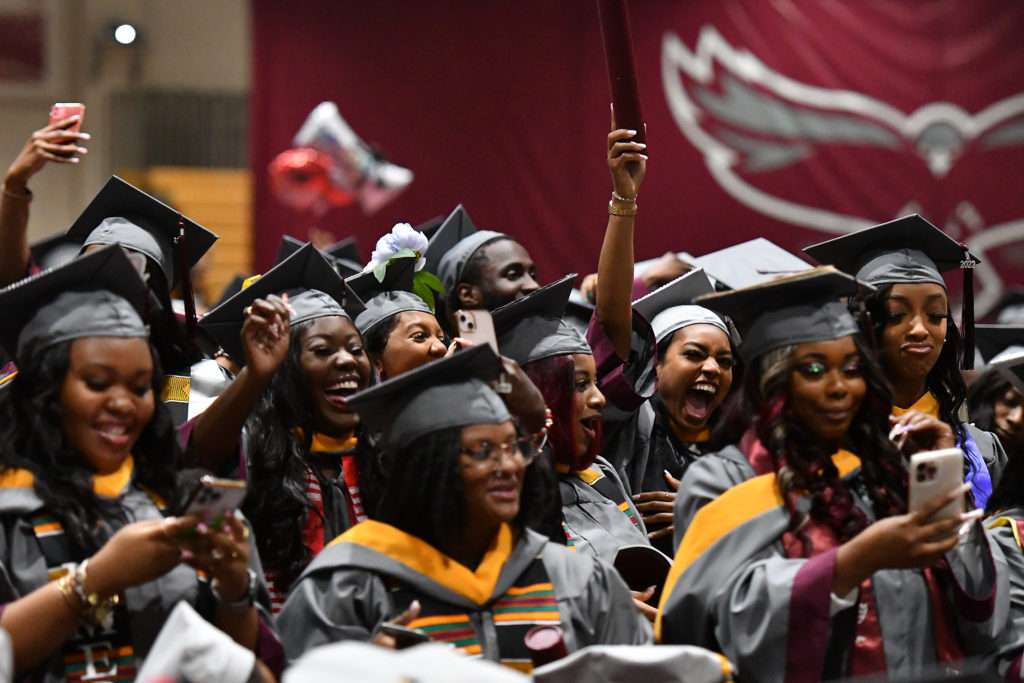 When April Powell began her journey to the University of Maryland Eastern Shore, it was as a high school graduate in the fall of 2003.
At the time, the Snow Hill resident enrolled at UMES as a biology major. But when a family health crisis led to her changing from the on-campus environment to becoming a commuter student, before eventually having to put her education on hold.
Powell briefly returned in 2009, before resuming her path toward her bachelor of science in special education and a minor in Spanish in 2019.
"When I started (in 2003) I was a 4.0 student. When I left, I was a 2.8 GPA student,'" she said. "My goal was to be successful and get my grades back up. When I started taking classes as a full-time student, I was working two jobs, I knew it was a lot but I could do it as I saw I was getting A's again and that I was learning and succeeding towards my goal."
Powell, who received her degree Friday, was one of the 289 bachelor's, master's, and doctorate degrees conferred by President Heidi M. Anderson during UMES's 136th spring commencement at the William P. Hytche Athletic Center.
The event featured Maryland State Delegate and Speaker of the Maryland House of Delegates, Adrienne Jones, who provided the commencement address.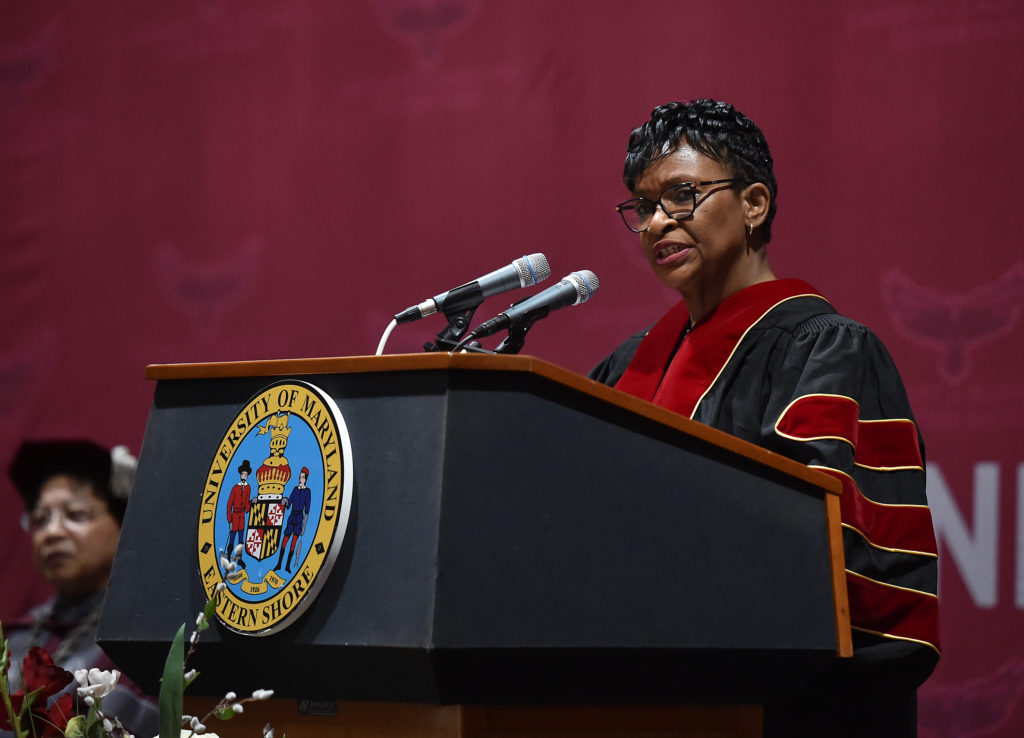 Jones, who holds the distinction of being the first African-American and the first woman to lead the Maryland Legislature, shared the importance for the new graduates to follow their moral compass and how it will positively impact them in the future.
"You never who is watching you and you never know when opportunities will become available to you," she said. "Lead with your values, help others around you, be open to new possibilities, and remember that fairness, decency, and equity will take you places."
In the group of nearly 300 graduates, 87 students received honors.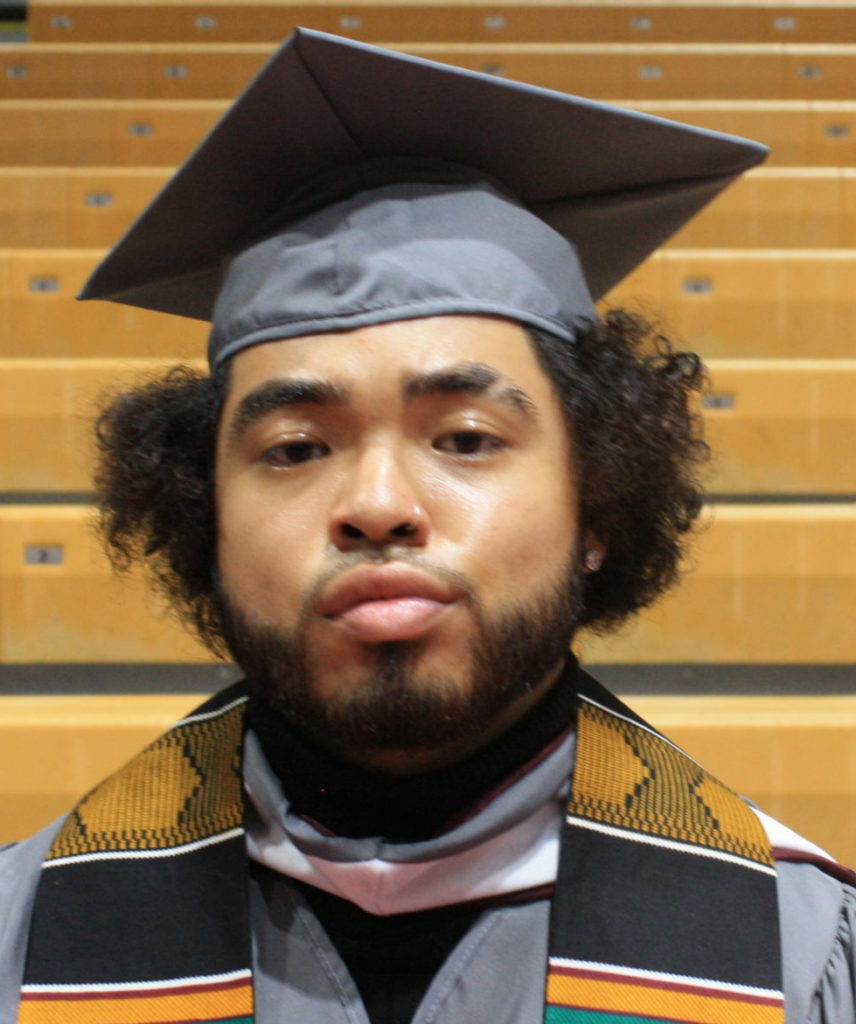 Among that group of students was history major Daisuke Mayama of Upper Marlboro, who described his time at UMES gave him the tools he needed to succeed in his future.
Making the transition from a more urban setting to the rural backdrop of Princess Anne, Mayama was a stalwart on campus with his involvement in numerous activities including membership in the Richard A. Henson Honors Program.
He also assumed leadership roles in various organizations including the Residence Life Association student assistant and as president of the Muslim Student Association.
"One thing about being a UMES student is that you have to adapt to new environments and make friends and get new perspectives," he said. "All the opportunities I have taken here at UMES and all the friends I've made here, they're all very valuable."
Mayama will take those experiences with him as he plans to attend Howard Law School to become a civil rights attorney.
Criminal justice major Kay Easter of Severn has someone special to share their commencement experience with, as their twin brother Jay Easter also received his degree in mechanical engineering.
The quality of the criminal justice program helped sway Kay to come, which help them persuade their brother to attend as well.
"He was not going to come here until the open house and he saw how engaged the people were with us and how the vibe and the feel of coming to an HBCU was," said Kay Easter, who is planning to apply to the United States Secret Service during their gap year. "He wasn't planning to come to an HBCU and we were going to be separated, but him coming to the same HBCU as I made me glad that we were staying together."
Thelma Douglas of Princess Anne graduated from UMES with her bachelor's degree in child development in 2008 and eventually returned to earn her master's in special education at the nudging of her late husband Bradley, a former UMES employee.
Thelma Douglas said her employment in Somerset County Schools focused on special education, which led to her focusing her master's work in that field.
Douglas, 54, said returning to school 11 years later posed a challenge as she had to change her focus back to being a student again.
"My patience is not quite where it used to be," she said. "Plus, I'm working full time and trying to keep up with technology which might have been a challenge. But I'm thankful for the relationships that I've built since I've been back between my teachers and the students. I was old enough to be their mother, be we were able to help each other to get through classes."
Moera Abate of Silver Spring always had an interest in aviation for a long time and chose UMES as it was the only aviation science program in Maryland.
While aviation has always been his passion, photography was also a hobby and something he used as a way to help relax from the stressful days of focusing on his major.
"One piece of advice I'd give to future graduates is never stop exploring," he said. "You might have multiple talents and you have to take advantage of that."
English major Tyler Holmes said he chose UMES as it was the first school that accepted him in the application process. Seeking to become a better writer, he found a new passion in digital media as a member of Hawk Media.
"It wasn't something that I was expecting to get into," the Forestville resident said. "I had some vague interest in photography and camera work, so that was interesting. But getting into the video work and editing, things that people thought were tedious, it was something I found fun."
Holmes, who plans to pursue graduate school while also focusing on streaming and being a content creator, summed up his college experience as transformational.
"I've crossed bridges, I've burned bridges, I've had a number of friend groups. The people I'm leaving with aren't the people I started with, and that was a big adjustment for me," he said. "I had an environment where I could grow, learned things that I liked about myself, what I didn't like about myself, things that I would stand up for, and things I wouldn't stand for. I really learned how to grow here."
Powell, who begins teaching special education in the Worcester County School System this fall, said her time at UMES has taught her responsibility, grit, and determination, and has strengthened her resolve to continue learning. "I don't know what my master will be in, but I know I want to continue doing that while I still have it on my mind and not wait any longer," Powell said. "The gap that I took in my undergrad affected me both good and bad, but I want to finish my master's while it's still fresh."