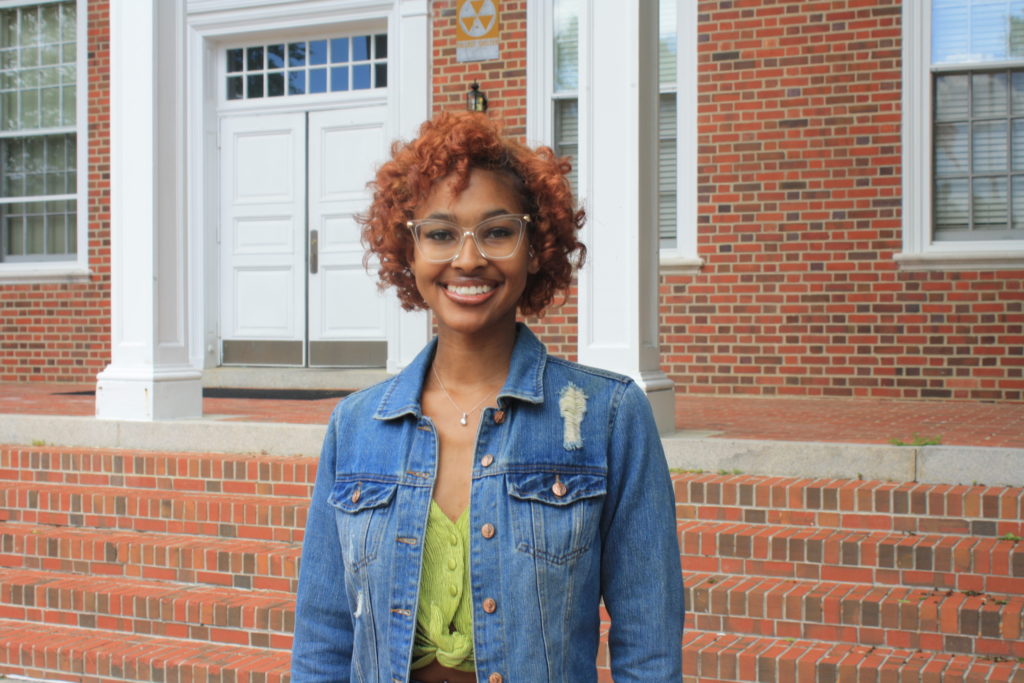 It's been a whirlwind senior year for Sydney Carr.
The construction management major officially began her reign as Miss UMES in October, which followed an appearance at the 37th Competition of Black Queens a month prior.
By partaking in the pomp of the ceremonies, the two experiences prepared her for something unexpected. Unbeknownst to her, she was being primed for a spot in the Miss Maryland Pageant.
"It was a crazy story," she said. "I got a notification that my application was approved in September, but I didn't know anything about the pageant and I didn't do the application myself. I was very confused about where the application came from and I didn't find out until months later that a friend of mine filled out the application."
For Carr, who represented Clinton, Md. in the competition, preparation for the March 31 – April 2 event held in Bethesda was "a growth experience."
"It was completely stressful, but definitely rewarding," she said. "Coming from the Hall of Fame pageant, I used what I did there, to learn and build myself back up from there to compete at such a higher level. It allowed me to find out that I enjoy pageants now."
From her first day there, Carr, who finished in the Top 22 in the competition that included more than 100 hopefuls, was busy with interviews and rehearsals the first day before moving on to preliminary rounds including the swimsuit and evening gown categories on day two.
Carr said she was enthusiastic about the experience as it gave her confidence.
"I wanted to feel like I belonged there and this was something I was capable of," she said.
The pageant was another step in Carr's progression beginning from when she arrived at UMES four years ago and included involvement in the Imperial Court as a freshman.
"Coming into college I didn't even know what a royal court was … I didn't even know what an HBCU queen was," she said. "So now, to be serving as one after all the years that I have put in, it's rewarding. It's been a journey."
One accomplishment she is proud of is the Imperial Court's growth and presence on social media. Carr said that making the members relatable to the student body was important.
"Being able to build that audience up over the summer, and increasing interaction and getting students to know the court, what they like, what they do on campus besides having the position is a really big accomplishment in itself," she said. "Those are things that are all worth it."
Carr said the crowning achievement was when she and fellow senior Kamahri Valcourt were officially coroneted Miss UMES and Mr. UMES, respectively. It was that moment, she said, that encapsulated their time on campus.
"Being able to look into the crowd and see so many people that had an influence on us throughout the years like our Miss UMES during our freshman year, having Mr. Junior and Mr. Senior there and very proud of us was so amazing," she said. "Just that moment of having so many people around who supported us was indescribable."
As her tenures both as Miss UMES and as a student come to an end, Carr is already looking toward the future.
She plans to pursue a career in the construction field as a project manager with the goal to create and develop senior living and apartment complexes in order to have greater insight into community impact.
She also has an interest in marketing and starting her own foundation.
Carr is also planning to participate in another pageant this October, representing Miss Black Northeast Ambassador in the Miss Black Ambassador Pageant in Atlanta.
"I'm excited about where it can possibly take me," she said. "I'm trying to feel out the entire pageant system to see if this is for me."