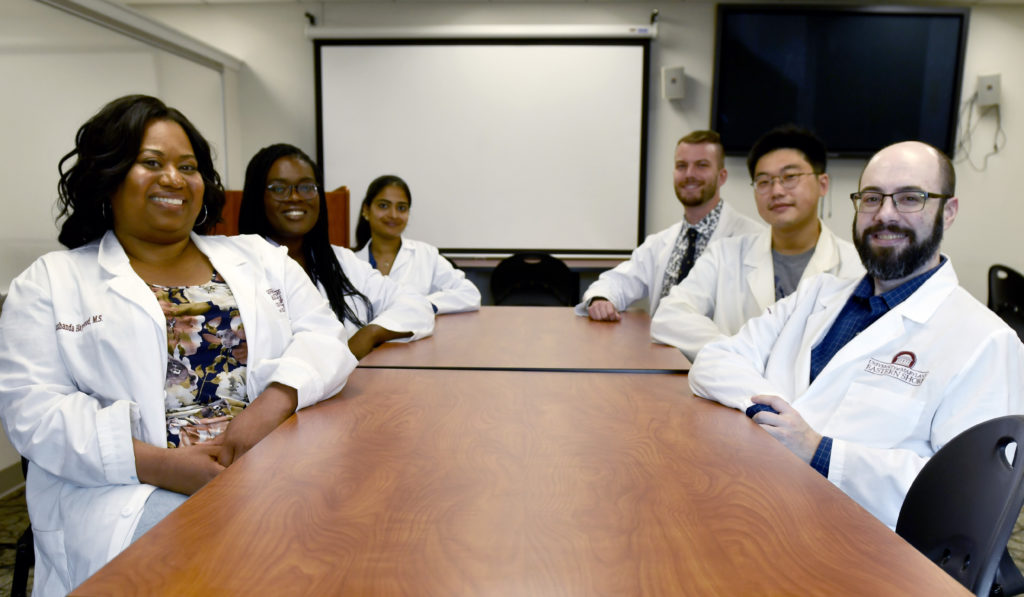 The Pharmaceutical Sciences Graduate Program (PSGP) is a research-oriented degree program that offers multidisciplinary training in the areas of Drug Design & Discovery (DDD) and Drug Delivery & Clinical Pharmacology (DDCP). Students who fulfill the academic criteria of course work and original research culminating in a thesis or dissertation will earn the Master of Science (M.S.) or Doctor of Philosophy (Ph.D.) degree, respectively.
STUDENT SPOTLIGHT:
Congratulations to Rhashanda Haywood, M.S. on receiving a predoctoral fellowship from the PhRMA Foundation!
UMES graduate student awarded 2023 PhRMA predoctoral fellowship | Public Relations
Career Opportunities and Salary for Graduates

Pharmaceutical Scientists may become professors, researchers, and leaders in pharmaceutical and biotechnology companies, academia, government agencies, and other health-related organizations. Average salaries in 2013 were: academia – $107,200; industry – $138,500; government – $100,100. 
The two areas of specialization are multi-interdisciplinary and on the cutting edge of the ever-advancing field of pharmaceutical sciences, thus providing a state-of-the-art educational experience for the student.
MS/PhD Tracks
The Graduate Program in Pharmaceutical Sciences focuses on two areas of specialization:
Drug Design and Discovery (DDD)
The DDD track offers students the ability to gain knowledge and conduct research in the areas of drug design
and synthesis, biosynthesis of natural products, neuropharmacology, and immunology.
Drug Delivery and Clinical Pharmacology (DDCP)
The DDCP track offers the students the ability to gain knowledge and conduct research in the area of drug
delivery systems with a focus on the use of nanotechnology in targeted drug delivery.
The DDCP track also offers the opportunity for students to train in clinical pharmacology
by acquiring advanced pharmacokinetic and pharmacodynamic analysis skills and through the use of modeling
and simulation techniques.
Admission Requirements
BS or MS degree in biology, biochemistry, chemistry, engineering, molecular biology, pharmacy, pharmaceutical sciences, or a related area.
The minimum academic standard for full admission to the Graduate School is a B average or 3.0 on a 4.0 scale.
Official Transcripts from all higher education institutions attended.
Three Letters of Recommendation
Statement of Academic Goals and Research Interests
How to Apply
Currently, we are accepting applications for admission into the program for Fall 2023 with a deadline of June 1st for submittal.
All applicants must complete the UMES Graduate School application. A non-refundable application fee must accompany the application to be considered for admission. Please visit the School of Graduate Studies website for details.
Contact Us
Dr. Patrice Jackson-Ayotunde
Associate Professor and Director of Graduate Studies
410-621-3044
PSGP@umes.edu