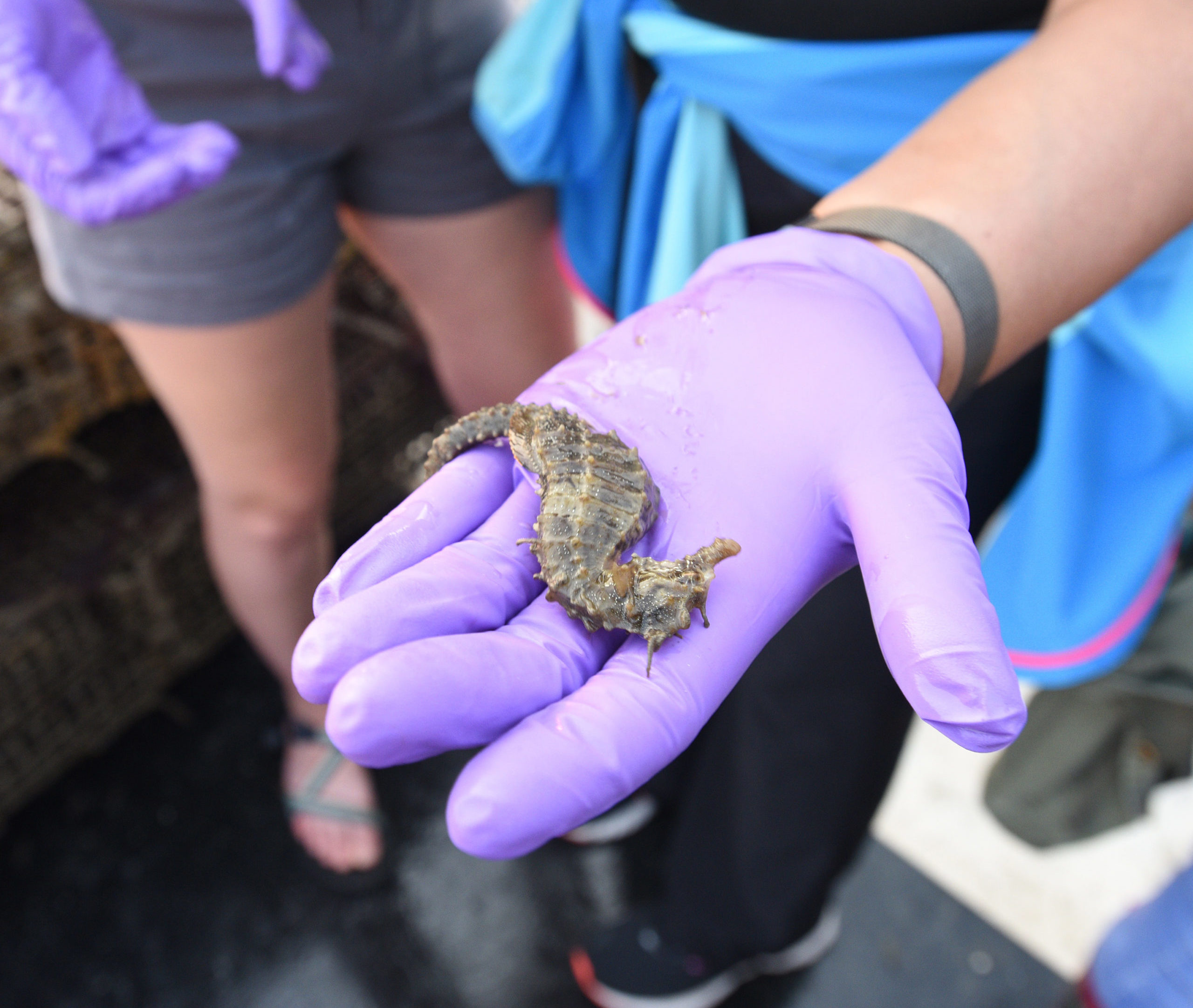 Department of Natural Sciences (Bachelor of Science in Environmental Science / RNL Draft)
Immerse yourself in the vast, beautiful ecosystems of Maryland and the East Coast with an Environmental Science degree from the University of Maryland Eastern Shore
Corporations, government agencies, and citizens across the globe are becoming increasingly aware of the importance of finding solutions to the many environmental problems impacting communities and businesses everywhere. When you earn a Bachelor of Science in Environmental Science from the University of Maryland Eastern Shore, you'll have the expertise and real-world experience to engage in scientific discovery, integration, and application to solve some of the most pressing environmental issues today.
As an Environmental Science major at UMES, you'll take immersive classes and labs taught by faculty members with decades of experience in every major subfield of environmental science. You'll also become a vital member of a close-knit community of peers and staff dedicated to helping each other succeed personally, academically, and professionally. Whether you're interested in marine science, climate change, or environmental chemistry, we've created a program that can prepare you for the wide variety of environmental science careers available to you after graduation.
Why Choose UMES for Your Environmental Science Degree?
Apply your knowledge in real-world settings
When you earn your undergraduate Environmental Science degree at UMES, you'll have many chances to take advantage of our 600-acre campus and surrounding ecosystems to work and study in the field. We offer research assistantships at our laboratories and institutes dedicated to various aspects of environmental study. You can also participate in internships with local businesses, government agencies, and nonprofit organizations to build a robust resume even before graduation.
Align your Environmental Science degree to your interests
There are so many rewarding environmental science careers and paths available to our graduates in the world. To help you narrow your search and find your specialty, we offer three different degree tracks that can lead to unique careers. As an Environmental Science major at UMES, you can choose between:
Environmental Science, Environmental Chemistry, B.S.
Environmental Science, Marine Science, B.S.
We also offer a dual degree program in conjunction with Salisbury University. In this program, Salisbury University students earn a B.S. in Biology from Salisbury and a B.S. in Environmental Science from UMES simultaneously. Students interested in this dual Biology/Environmental Science program should apply to Salisbury University as well.
Work with experienced faculty
Thanks to the small class sizes in our program, every Environmental Science major has many opportunities to work closely with our faculty mentors. They bring to their classes rich academic and professional experience in a broad range of subfields, including oceanography, entomology, environmental chemistry, marine toxicology, estuarine ecology, climate change, forest ecology, and so much more. No matter which environmental science career you want to explore, our faculty can help you build the skills and knowledge to excel.
Earn an accredited Environmental Science degree
When you earn an Environmental Science degree from UMES, you'll graduate with a highly respected degree accredited by the Middle State Commission on Higher Education. This means that employers and graduate programs will recognize your education as meeting the highest standards of academic excellence and professional preparation.
Explore Courses in the Environmental Science Degree Program
Our Environmental Science degree program offers you the freedom to chart your own path to your ideal career through multiple degree tracks and elective courses. From the diversity of the marine sciences to the processes of environmental chemistry to the importance of hormones in the body's defensive and maintenance processes, we have the courses and topics that will let you build expertise in the area of environmental science that interests you.
Environmental Science majors complete 120 semester hours of courses—including 42 semester hours in general education courses and 78 semester hours in program core courses, supportive courses, and program electives.
Some of the courses that you can take as an Environmental Science major at UMES include:
Principles of Environmental Science: Learn about the human influences on the world's environments with this interdisciplinary course that integrates biological, physical, and chemical sciences to understand the issues affecting our environment and the social, political, and economic impacts they have on civilization.
Marine Ecotoxicology: Learn a distinct approach to solving marine environmental pollution issues resulting from stable pollutants and how they interact with biotic and abiotic aspects of the marine ecosystem.
Evolution: Dive into this advanced study of the evolutionary perspective of biology—including ecological and genetic aspects of evolutionary processes.
Succeed with an Environmental Science Degree from UMES
When you graduate with your Environmental Science degree from UMES, you can pursue a broad range of academic and career paths—both in Maryland and around the globe. Many of our graduates continue on to advanced programs to continue specializing within environmental and marine sciences. If you are interested in continuing your education at UMES, learn more about our Marine, Estuarine, and Environmental Sciences M.S. and Ph.D. programs.
Many other graduates have used their environmental science education to find careers such as:
Water treatment plant managers
Air pollution supervisors
Marine biologists
Energy and environment specialists
Environmental chemists/biologists
Oceanographers
Soil conservationists and fisheries scientists
Employment for environmental scientists and specialists is expected to grow by 5 percent by 2031, thanks to heightened interest in the environmental issues impacting society and the need to find sustainable solutions to them.
Learn More about Paying for UMES
We are committed to helping you pay for your Environmental Science degree through generous financial aid opportunities and affordable tuition rates and fees.
In addition to university-wide funding, the Department of Natural Science offers several scholarships for Environmental Science majors, including:
The Louis Stokes Alliances for Minority Participation (LSAMP) program
The Research Experience and Extension for Undergraduates (REEU) program
The Research Experience for Undergraduates (REU) program
The UMES Land Grant Scholarship
You may also be eligible for financial aid through the Living Marine Resource Cooperative Research Center.
Take the Next Step
Earn your Environmental Science degree and invest not only in yourself, but also in the future of the planet and our many wondrous ecosystems. Our program will prepare you for the important environmental science careers that are making positive impacts on the world of today and tomorrow.