For a brief moment, Quinton Smith wasn't himself.
The University of Maryland Eastern Shore senior history major and Richard A. Henson Honors student, known for his easygoing and calm demeanor, felt slightly out of place among a group of his peers.
It was right before he and his fellow Honda Campus All-Star Challenge (HCASC) teammates, Kevin Armstrong and Victoria Casteel were about to face off in a match with Virginia State University during a quiz bowl tournament held during the National Association of African-American Honors Programs (NAAAHP) Conference in Baton Rouge, Louisiana on Nov. 2.
The competition featured honors students from other HBCUs testing their knowledge of facts and trivia.
"Initially, I was nervous," Smith said. "But I realized that it wasn't like I was in a room where I didn't fit in. I love information, and I love learning facts. I fit in because everyone was feeling the same way too."
The trio came out of the gate strong by building up a 140-90 lead in the first three 4-minute rounds covering categories ranging from history, science, pop culture, and more.
Here is an example of the types of questions included this one in the category of canceled television shows:
After Fox's 2018 cancellation, NBC picked up what cop comedy featuring Andre Braugher as Captain Holt?
Casteel, a freshman biology major, swiftly buzzed in with the correct answer: Brooklyn Nine-Nine, leading to 10 points and an additional 10 points on a bonus question about the short-lived ABC show Quantico.
For Casteel, who also is a class officer and one of UMES's STEM STARS, the atmosphere of the competition didn't rattle her.
"It was more about trying to get the answer out fast, which was the most challenging part," she said. "It was good to face off against different competition than what we normally see in practice."
Since the start of the fall semester, the UMES HCASC program has participated in twice-weekly practices comprised of study sessions, drills and gameplay as they ready themselves for intercampus competitions in the spring. This year's 17-person team is more than double the size of last year's.
Honda Team coach and university public relations director, Earl Holland Jr., was excited to be able to see how his team would fare in the event.
"We came into this wanting to find out where we are as a program and if what we're doing in practices the past few months is paying off," he said. "The competitor in me always wants to win, but knowing that they are learning and improving shows me that they'll be ready when it counts."
Following the three rounds, the game came down to the final 60-second "Ultimate Challenge" round where Virginia State mounted a comeback answering seven questions worth 25 points each on the category of "Animal Anagrams."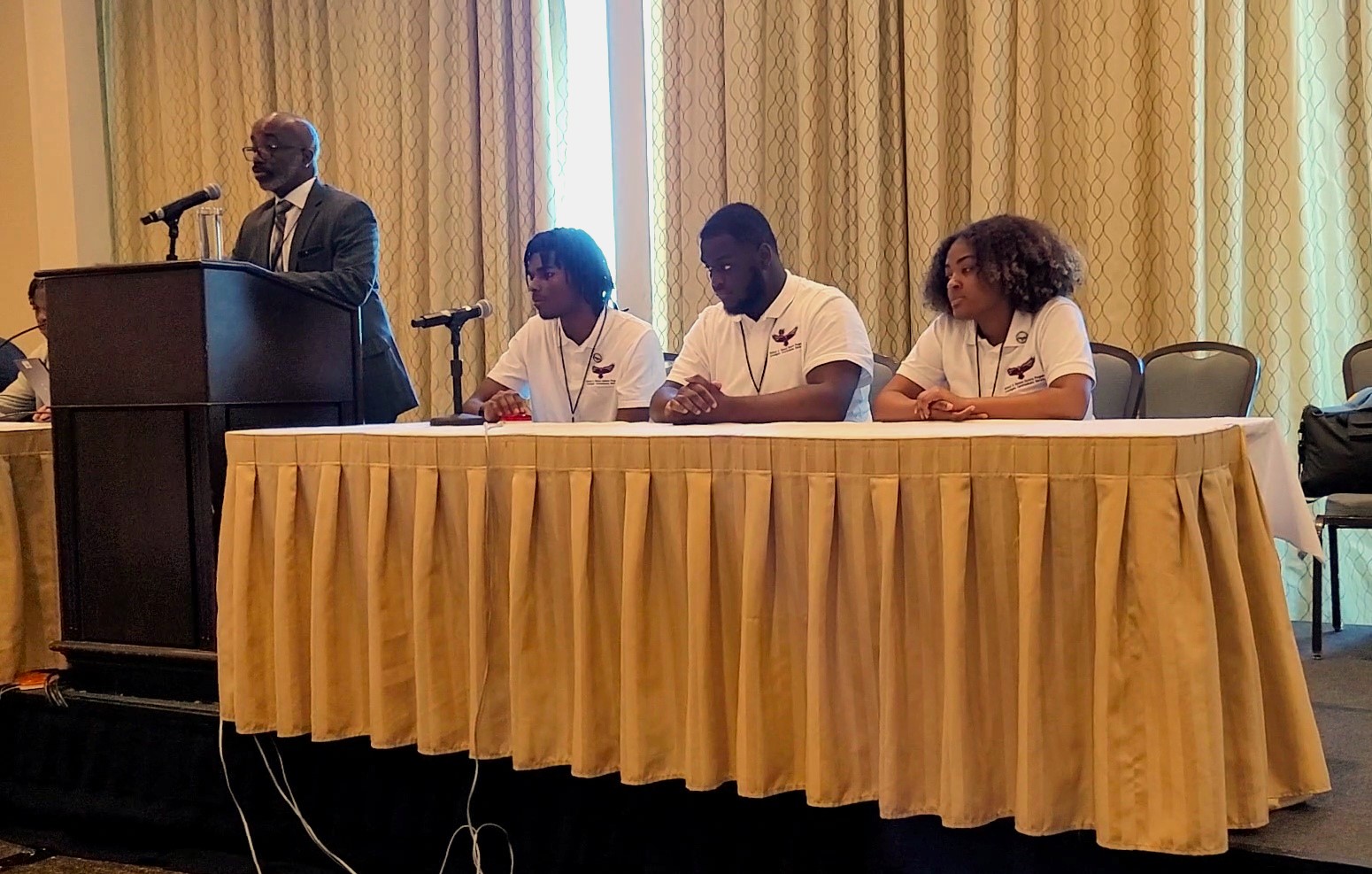 Needing six to win or five to tie and force sudden death, UMES chose the category "What's the Number", comprised of general knowledge questions with numerical answers. They answered four correctly but came up 25 points short in the 265-240 defeat.
Despite the outcome, Armstrong, a sophomore marine science major who captained the UMES honors delegation, was optimistic about his team's performance in the exhibition.
"We're a solid team, we just need to make sure that we finish the game," Armstrong, also a member of last year's varsity team, said. "That's how one of the games in last year's tournament ended. We had a good lead, and then the ultimate challenge was where we struggled. If we carry it all the way through, and we're lucky enough to get categories we're good in, we should do well."
Smith said the showing in the matchup at the NAAAHP tournament should bode well as UMES attends one of Honda's National Qualifying Tournaments at Norfolk State University in February.
"It gave me more confidence," Smith said. "We only lost by one question. If we just continue to hone our skills, we'll be where we want to be, possibly dominating at the NQTs."
In addition to the quiz bowl tournament, the NAAAHP conference featured a variety of events for honors students to participate in such as debate competitions, oral and poster board presentations, a model African United Nations simulation, and a talent show, with each offering cash prizes for first and second places.
The mission of the NAAAHP is to promote the continued empowerment of African-American honors students through enhanced cognitive and affective experiences, including increased enrollment into graduate and professional schools, and developing undergraduate educational environments endorsing scholarship, knowledge, and an appreciation of African-American culture.