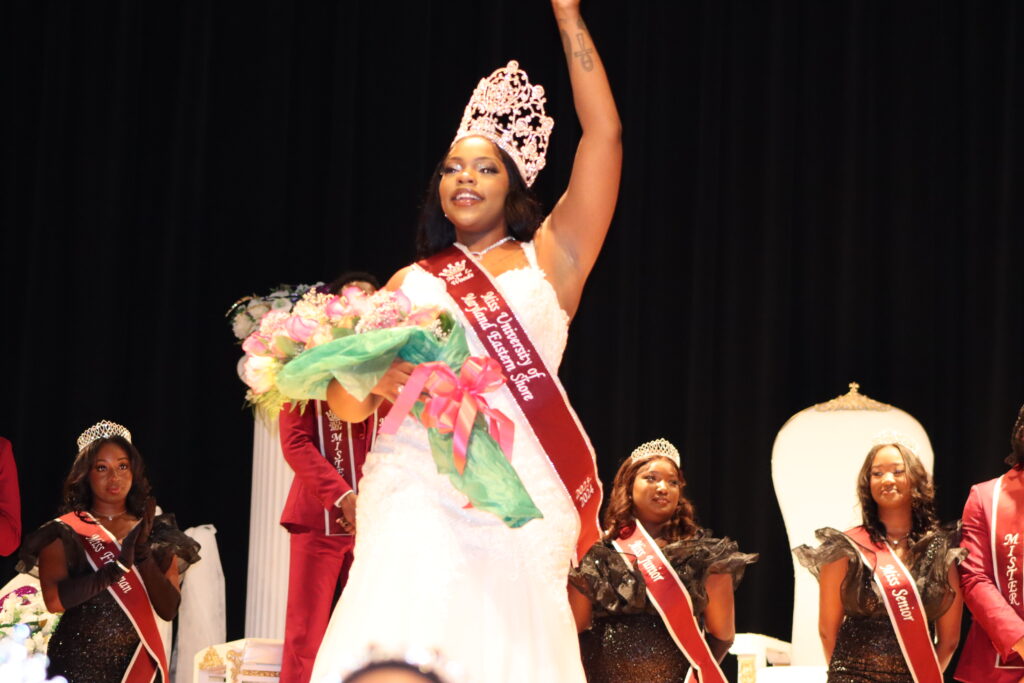 When Mya Woods took the stage of the Ella Fitzgerald Center to be officially crowned Miss University of Maryland Eastern Shore, it was a culmination of a path that wasn't a traditional one.
Woods, whose parents and grandfather previously attended UMES, arrived on campus as an early 20s transfer in the spring of 2021, and in the midst of the pandemic. Adjusting to a new normal in that environment was not easy.
"It was hard meeting people or feeling like I belonged here," she said. "I felt like I was old, because of all the people that were younger, and I was just so used to going to class and going home after that."
It was through that experience where she found her calling as someone who needed to advocate for others, something that wasn't uncommon for her.
"I started meeting more people on campus that had a similar story like me, and I realized that they needed representation," she said. "They needed to see someone like them doing things that they never thought would be possible."
When it came to competing for the title of Miss UMES, that experience was also out of the ordinary. Woods did not have previous history of being involved with the Imperial Court, and she was the only candidate for the role, meaning she would need to garner a vote of confidence from her peers.
"It wasn't fun running against myself," she said. "But for me, becoming Miss UMES was me jumping out on my faith.
Once the votes were tallied and she was named Miss UMES, Woods now had to go through her finishing process. Those lessons started with attending events like the annual HBCU Kings and Queens Conference, held earlier this summer in New Orleans.
It was at the conference that she began to get more insight into how to define her position.
"Being around all those other kings and queens taught me a lot," she said. "It taught me how to be confident in rooms that I walk in, how to approach people and ensure that I'm doing it the right way. It did something to my character. It was like a switch.
"I went from Mya, who's never done anything imperial to thinking like a queen, moving like a queen, and being merciful. The biggest thing I learned was being able to show mercy when others aren't showing mercy to you."
As part of her initiatives as Miss UMES, Woods wants to help bridge the gap between traditional and non-traditional students, while also listening to the needs and concerns of all the student body.
"The students want to know that they are being heard or at least know someone hears them and is going to fight for them. I also want to make them feel at home. We have plenty of new freshmen here and some of them are going through so many things. They need somebody to be motherly, and I want them to know that I see them, care about them, and that I love them."
Woods, who was escorted to the stage by her young son Mason as part of coronation festivities, said that she hopes that the legacy she leaves as Miss UMES is one that brings long-lasting change and inspires others.
"I know that this phrase has been used often, but I want to redefine the royals," she said. "I want to inspire the other women who are mommies going to school, and I want to be the queen that, when I leave, people remember me as the one who told them to 'pick their head up' when they were walking around sad. I also hope that it leads other women, other students on campus who never thought about imperial court to get into it, so that they can inspire other girls after them to do it."