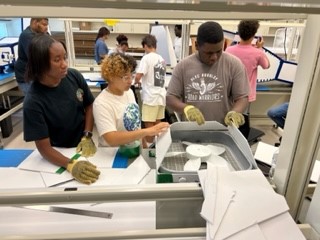 The University of Maryland Eastern Shore was the recipient of $425,000 in NASA grants aimed toward serving historically underserved and underrepresented high school students in STEM.
The funding, which averages out to $85,000 annually for five years, will be utilized for UMES's HAWKS Minority University Research and Education Project (MUREP) Precollege Summer Institute (PSI), a two-week residential program that will feature learning activities that are aligned to NASA's themes of space exploration, aeronautics, and Earth science.
In all, NASA gave $3 million in grants to seven Historically Black Colleges and Universities and one predominantly black institution.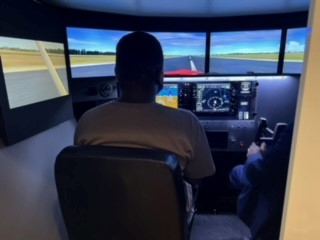 "As we all know, the demographic has changed in this country, so NASA has realized that for several years," said Dr. Joseph Arumala, professor of technology at UMES. "This is an attempt to diversify the workforce in NASA. So, really this program is mainly geared towards females and underrepresented students."
This year's program will run from July 16 to July 28 and will be open to 15 students in grades nine through 12 that have an interest in STEM fields.
During the summer program, students will participate in a number of learning and hands-on activities ranging from wind tunnel design and testing, robotics activities, a virtual reality laboratory as well as tours of the NASA Wallops Flight Facility where they will have a chance to interact with NASA scientists and engineers who will also act as mentors and advisors to the students.
Program participants will also interact with and visit scientists and engineers at the NASA Goddard Space Flight Center in Greenbelt, Maryland.
"This project gives students an opportunity to experience what it's like to live on a college campus, attend classes, and build relationships with professors and like-minded peers," said Torry Johnson, NASA MUREP project manager said in a statement. "What makes this program special is that it's tied to NASA research. Students will be participating in engineering design challenges and research related to NASA missions with support from NASA subject matter experts."
In addition to the mentoring provided by NASA staff, the selected applicants will receive college and SAT preparatory courses in classes such as English and mathematics as well as career development activities from UMES faculty and staff.
Dr. Ibibia Dabipi, a professor in the Department of Engineering and Aviation Sciences, said giving students the experience of living on a college campus will be an impactful one.
"The fact that the program is designed distinctly to bring students on campus is to advance their ability to understand how [college] is going to be different from high school," he added. "They'll be finding a routine and enhancing their understanding of their fields of choice while also making them understand the simple fact that, from that point on, responsibility is on them. We want to optimize their ability to succeed in college."
With the potential of having 75 different students participating in the PSI over the next five years, not only will the program prepare them for pursuing STEM-centered majors but it will allow them to become ambassadors and mentors in their own right.
"What we want to do is advance those students whether they attend UMES or not," Dabipi said. "They should be in a STEM field somewhere that educates them to advance because that is how you measure impact."