Thursday, November 2, 2017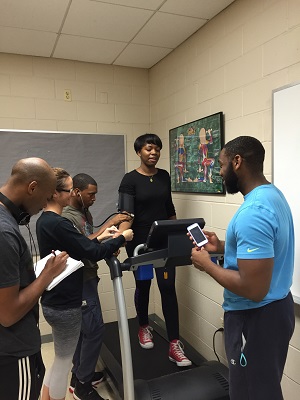 The Office of the Provost and Vice President for Academic Affairs has confirmed three new articulation agreements that have been finalized in the past several weeks.
The Department of Kinesiology developed a "4+2" memorandum of understanding that undergraduates who satisfy established grade-performance criteria in pursuit of an exercise science degree can qualify for preferred admission to Philadelphia University's master's program in athletic training.
"A huge thanks to Dr. (Margarita) Treuth for leading this effort," said Dr. Latasha Wade, interim vice provost for academic affairs, adding "This is the first collaborative agreement of its kind in the Department of Kinesiology, and (UMES') first agreement with 'PhilaU'."
The Department of Rehabilitation Services has negotiated a similar articulation agreement with Chesapeake College in Wye Mills, Md. Through this "2+2" partnership, Chesapeake students who earn an Associate of Applied Science degree in human services "can seamlessly transfer" to complete studies for a bachelor's degree in rehabilitation services from UMES, Wade said.
Wade singled out Dr. William Talley and Dr. Clayton Faubion for credit in spearheading "the development of this agreement."
Meanwhile, Maryland high school students who successfully complete the "Project Lead the Way" engineering program or the Advanced Technology Education pathway are now eligible for up to six college credit hours in comparable UMES technology courses should they choose to enroll.
The course-credit transfer agreement is similar to one UMES struck with the Delaware Department of Education earlier this year.
UMES partnered with the Maryland State Department of Education over the past year in seeking Maryland Higher Education Commission approval for the proposal, which came in October.
"Dr. Tyler Love led the development of this agreement and is to be commended," Wade said.