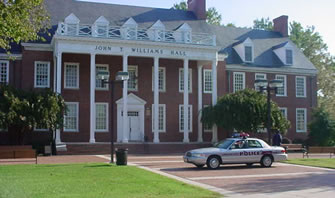 The University of Maryland Eastern Shore Department of Public Safety is committed to providing the highest quality of service to the campus community and the public. We are constantly striving to meet the needs and rights of crime victims/witnesses. Campus Police is a division of Administration and Finance.
This information is published and distributed in compliance with the Jeanne Clery Act , Student Right to Know and Campus Security Act, and Drug-Free Campus/Drug-Free Workplace legislation.
The UMES Police Department is located behind Waters Hall. – Campus Map
Responding to an Active Shooter Crisis Situation
Emergency Contacts
Campus Police: 410.651.6590
Campus Emergencies: 410.651.3300
Fire: Dial 911

Sign-Up for Hawk Alerts – Signing up will enable your mobile device to receive free emergency broadcast text alerts from UMES Public Safety.
The easiest way to sign up for Hawk Alerts is to use the text enrollment feature. Text "Hawkalert" to the number 226787 and you will be automatically enrolled. When you do this you will receive an acknowledgement that you are in the Hawk Alert system.