PHI KAPPA PHI CH 312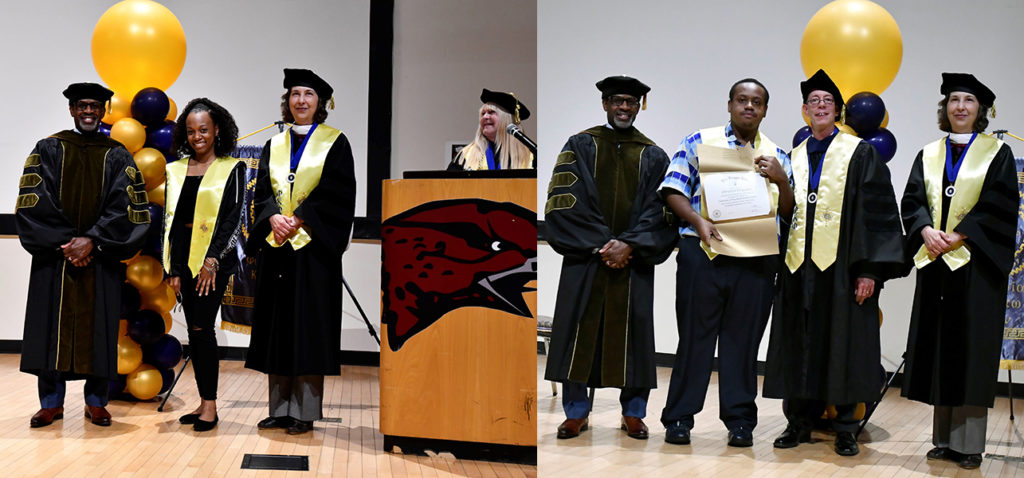 Welcome to the University of Maryland Eastern Shore (UMES) Chapter 312 of the Honor Society of Phi Kappa Phi website!
The Honor Society of Phi Kappa Phi is the nation's oldest, most selective, and most prestigious all-discipline honor society.
Standards for election to Phi Kappa Phi are extremely high. Membership is by invitation only to UMES's top 7.5 percent of second-semester juniors and top 10 percent of seniors and graduate students.
Chapter 312 of the Honor Society of Phi Kappa Phi was chartered in 2010.
Now in its 13th year, Chapter 312 has 508 members as of 5/8/2023. Click here for a list of members. 
Spring 2023 Initiation Ceremony: Wednesday, April 26, 2023, 5pm to 7pm, in the Henson Ballroom
The following new members were inducted:
Administrator/ Staff/ Faculty: Dr. Dana L. Little, Dr. Tyler S. Love, Dr. T. Sean Vasaitis
Graduate Student Initiates: Feven Eyoh, Gabrielle Pinto
Undergraduate Student Initiates: SANS: Fabiola Beauvoir, Raynice L. Caudle, Jordan E. Frazier, Emma Jones, Yeganeh Mansourian
SBT: Tranita C. Barnett, DeAndre L. Diggs, Witchell Laurier, Inayah Mason
SESA: Aquil Freeman, Kamille Little, Yazmyn Stewart, Nicole Warren
SPHP: Derionah Abner, Sydney Morris
CONGRATULATIONS! We welcome you to Ch. 312 of the Honor Society of Phi Kappa Phi!
(NOTE: Invitees can join online until June 30.)
---
2022-2023 Executive Board
President: Dr. Michael Lane
Past President: Dr. Gabriela Vlahovici-Jones
President-Elect: Dr. Jocelyn Briddell
Historian & Webmaster: Dr. Terry Kundell
Secretary: Dr. Donna Long
Treasurer: Dr. Katherine Quinn
Student Vice President: Remi Akinwale
Awards and Grants Coordinator: Dr. Nicole Hollywood
Initiation Officer: Dr. Linda Forristal
Phi Kappa Phi Fellowship 2015 Nominee & 2016 Nominee both won national fellowship of $5,000!
Liz Ranger, 2016 Ch. 312 fellowship nominee, and Noman Choudhry, 2015 Ch. 312 fellowship nominee, both won prestigious $5,000 national fellowships. Both graduated from professional schools in May 2019. Liz is now a lawyer, and Noman is now a physician.
We are very proud of these two fellowship nominees!

Phi Kappa Phi Literacy Grants: 2014-2015 & 2016-2017
Twice, we have been the proud winners of Phi Kappa Phi literacy grants. You can see the details at the following URL:
http://www.phikappaphi.org/grants-awards/literacy#.VSFM0vnF8Rp
Paulina Erices and Veronique Diriker
Pennsylvania State University & University of Maryland Eastern Shore

Literacy Supplies for Children in Nicaraguan Impoverished Schools (2016-2017)
Working with La Merced, a volunteer-based nonprofit organization in the U.S., members from the University of Maryland Eastern Shore and Pennsylvania State University chapters have teamed up for a truly collaborative literacy effort. In its first phase, the project will evaluate and assess the needs of teachers and administration at a K-12 school in Managua, Nicaragua. After assessment, project leaders will acquire the necessary materials to provide teachers with equipment and support to meet the children's needs. Communication with school administrators and on-site visits will take place over 24+ months to assess impact and effectiveness of intervention for continued support.
Terry Smith
University of Maryland Eastern Shore
Just One Book (2014-2015)

The Just One Book project will complement a 2014-2015 initiative at the University of Maryland Eastern Shore to encourage all students to read at least one book: The Immortal Life of Henrietta Lacks. The book brings relevant scientific, historical, cultural, and current events to students at the Historically Black College and University (HBCU). Student members of the Phi Kappa Phi chapter will provide free copies of the book and sponsor an essay contest with the winners presenting their essays during a symposium. The goal of the Just One Book project is to encourage students, through the exploration and enjoyment of just one book, to embrace literacy.
Last updated 5/8/2023 by Terry Kundell: tlkundell@umes.edu