History of the UMES National Alumni Association
Alumni of what is known today as the University of Maryland Eastern Shore are fiercely loyal and maintain life-long connections to an institution that opened doors for them to become productive adults.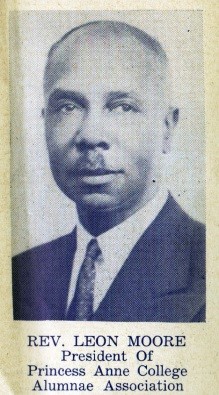 Archives are sketchy about how formally organized they were prior to World War II. But in 1947, there is curious evidence former students appeared to be unified.
On October 25, 1947, the football program for a game between the Princess Anne College "Trojans" and the visiting Fayetteville State Teachers College "Broncos" features a photo of the Rev. Leon Moore, pastor of Haven Methodist Church in Philadelphia.
Below, his photo is a caption identifying him as "President of Princess Anne College Alumnae Association," which erroneously implies the school was a single-gender institution when in fact men and women attended the school together since its early days.
What is known from oral histories is that alumni of that era were altruistic and motivated to lend their time, energy and financial resources to a growing institution that soon became Maryland State College.
By 1955, alumni were keeping formal records and elected Edward Wilkins, a 1937 industrial arts graduate, as their president. A public school educator in Charles and Washington counties and in Baltimore, Wilkins was a natural choice to lead the organization since he is credited with helping establish and serving as president of the school's first alumni chapter in Baltimore in the mid-1940s.
The Maryland State College Alumni Association, Inc. was established formally under state law on June 6, 1963 "to promote the interests and welfare of the Maryland State College and to assist in furthering mutually beneficial relations between Maryland State College, its alumni and the public."
1959 Maryland State College Alumni Association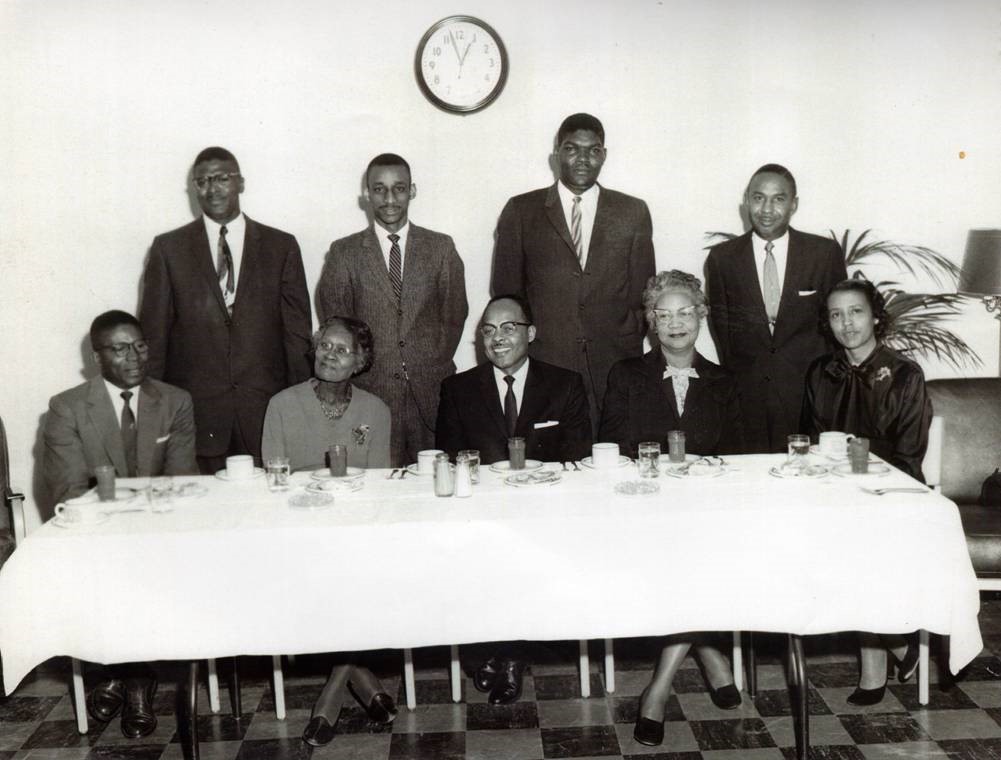 Front row (left to right): Edward Wilkins '37, vice-president; Anna Handy Maddox '04, secretary; Roma A. Jones '39, president; Omega Jones Frazier, treasurer; and member Devenia P. Wallace '43. Back row: members Oswald Martin '52, Arthur E. Milburn '52, Ernest W. Lee '47 and John A. McDowell '38 (Photo courtesy of Devenia Wallace)
The Association's name changed to reflect the institution became known in 1970 as the University of Maryland Eastern Shore, but its focus has remained the same. The UMES National Alumni Association, Inc. today has chapters with enthusiastic members who assist in advancing the interests of the university. They are based in Annapolis, Baltimore, Southern Maryland, the Eastern Shore, Washington, D.C., Southeastern Virginia, Atlanta, Detroit, New York, Philadelphia, Raleigh, N.C. and Plainfield, N.J. There's also a chapter in Accra, Ghana.
Richard H. Jones (1976), holds the distinction of being elected alumni leader two different times (1995-97 and 2001-03).
With support of its members, the UMES National Alumni Association, Inc. continues to invest in the university by providing ongoing contributions to the UMES National Alumni Association Endowed Scholarship and the UMES National Alumni Association Athletic Endowment Fund.
The UMES National Alumni Association is a loyal and steadfast supporter of the university's mission and the maintenance of its traditions and legacy.
— KIMBERLY CONWAY DUMPSON & BILL ROBINSON