ARD Research Symposium 2024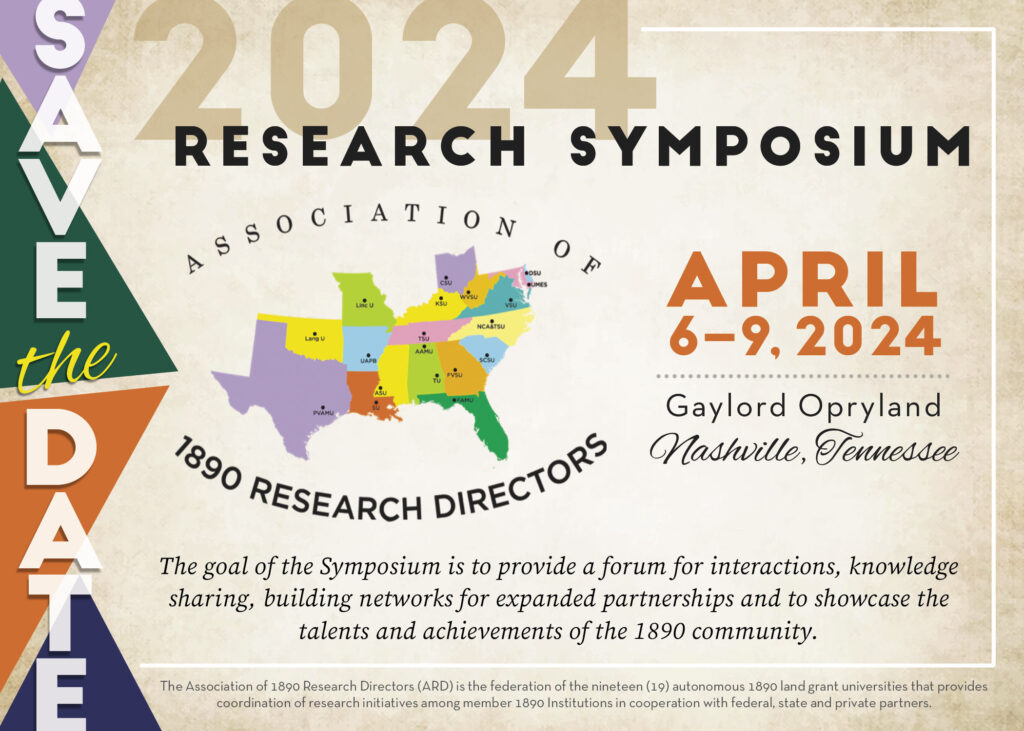 Symposium Theme:
Climate, Health and Cultivating the Next Generation of Agriculture Leaders: Creating Solutions in Food, Agriculture and Natural Resources
Welcome to the website for the 21st Research Symposium of the Association of 1890 Research Directors, Inc. (ARD). The ARD has planned an exciting and informative conference and looks forward to repeating the success of the 2022 Symposium which engaged more than 1100 registrants. This website will be updated periodically to keep you informed of all Symposium activities. Contact information is provided throughout this website should you have any questions. See you in Nashville!
Symposium Goal: To provide a forum for interactions, knowledge sharing, building networks for expanded partnerships and to showcase the talents and achievements of the 1890 community.
Gaylord Opryland Hotel
Nashville, TN
April 6 – 9, 2024
Registration
Regular Registration– $700 per participant, October 18, 2023 – February 23, 2024
Late Registration– $725, February 24, 2024 – April 5, 2024
On-Site Registration — $750, Begins April 6, 2024
Spouse/Significant Other Registration: — $200 per participant
Registration can be paid by purchase order, check, money order or credit card. No refunds.
(Note: Credit Card users need to add an additional $15.00 registration fee to cover bank charges).
To register:
https://whova.com/portal/registration/aord_202403
Hotel Registration – Hotel Guest Room Rates:
Single and Double Occupancy: $249
Each additional person to the room is $20.00
Tax and Surcharges: Hotel rates are confirmed in 2024 and are subject to applicable state and local taxes (currently 9.25% State tax, 6% Occupancy tax, $2.50 City tax per night and a State of Tennessee Hotel Motel fee) in effect at the time of check in.
Deadline to Book: March 7, 2024 (5:00 p.m. Central)
Gaylord Opryland Hotel Reservation Link: https://book.passkey.com/go/aof1890rds
Important Information for Group Reservations and Payments

Important Information for Group Reservations and Payments

For group reservations, please contact Mr. Herold Herrman, Sr. Group Services Coordinator, at 615-458-3853 or via email at hherrman@gaylordhotels.com. Mr. Herrman will provide further instructions for booking group reservations and payment information (i.e., invoicing).

It is the Gaylord Opryland's standard policy to charge a one-night deposit for each reservation made. However, ARD has guarantee to the master account that no deposits will be charged. With this said, please be cognizant that the cancellation policy statesthe following:

Change and cancellation policies for guests with existing reservations for any future arrival date, including pre-paid reservations, full changes or cancellations are permitted at no charge (without penalty) up to 72 hours (or three days) prior to arrival.
Cancellations within 72 hours of arrival will forfeit 1 night room and tax.
If the ARD master account is charged for a guest room(s) out of compliance with the aforementioned policy, the respective university will be invoiced.
Upon early departure, an early departure charge of one night room and applicable tax applies.

There is a prevailing daily resort fee of $25 per day per room. You have already paid this fee through your assessment. This fee includes:

Basic wireless internet access in all public areas and convention center.
Unlimited local and long-distance calls.
Daily shuttle service to Opry Mills & The Inn at Opryland.
Two bottled waters daily with housekeeping service.

Additional attachments include: Gaylord Information and Tips, Information for the wayfinding app, and a Gaylord Hotel map. Please visit the ARD website for additional Symposium information. https://wwwcp.umes.edu/ard/1890symposium/ Registration will open soon.

If you have any questions or need additional information, please contact Ms. Lisa Williamson (lmwilliamson1@ncat.edu).
Exhibitors
Each 1890 campus is invited to display one university exhibit FREE. Additional exhibits and non-1890 exhibitors must pay the fee of $3,000 by February 9, 2024. All exhibitors, including the 1890s, must submit the Exhibit Registration Form by the deadline.
To become an Exhibitor:
https://wwwcp.umes.edu/ard/1890symposium/exhibitor-registration/
To become a Sponsor:
https://wwwcp.umes.edu/ard/wp-content/uploads/sites/58/2023/10/SponsorshipsARDSymposium2024web-1.pdf
Abstracts
The deadline for abstracts for oral presentations is Monday, November 13, 2023. Click below for instructions for formatting and electronic submission.
https://wwwcp.umes.edu/ard/1890symposium/abstract-instructions/
The application deadline for the Morrison-Evans Outstanding Scientist Award and the B.D. Bayberry Young Scientist Award is Friday, January 19, 2024. To submit a nominee, click below
https://wwwcp.umes.edu/ard/1890symposium/award-nominations-overview/
For Additional Information,Please Contact:
Orlando F. McMeans, Ph.D., Symposium Steering Committee Chair
Southern University Agricultural Research & Extension Center (225) 771-4310 or orlando_mcmeans@suagcenter.com
Alton Thompson, Ph.D., ARD Executive Director
North Carolina A&T State University/ (336) 285-2955 or athompson1@ncat.edu or visit https://www.umes.edu/ard/1890symposium/