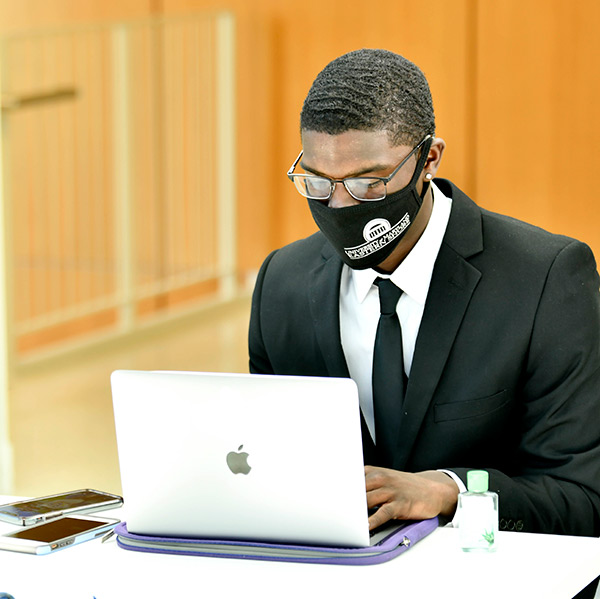 The University of Maryland Eastern Shore is committed to maintaining a safe environment for our community.
We encourage everyone to remain vigilant about safety protocols as described below. We will follow CDC Guidance for IHE's and the USM Chancellor's Vaccine Mandate.
Please check this page regularly for updated information.
UMES research professor Virginie Zoumenou has created this informative public safety video explaining why vaccines are safe!
RECENT MESSAGES
August 24, 2022
University of Maryland Eastern Shore is committed to being a community of care. Throughout the COVID-19 pandemic, we have followed the science and the guidance provided in collaboration with local, state, and federal public health recommendations. Based on the guidance of the CDC and health information provided by USM experts, Somerset County Health Department and UMES Health experts and administration have updated our health and safety guidelines:
COVID-19 Testing
The Somerset Health Department and the UMES encourages faculty, staff, and students to take advantage of free testing sites throughout the community. Maryland COVID testing resources can be found at here. Students can contact the Charles Drew Health Center to schedule a COVID test.
The university continues to monitor the status of the virus within Somerset County and may respond to the data at any time and resume campus-wide at any time. Messages regarding campus COVID testing wide testing will be sent via UMES News.
Reporting COVID-19 cases
University employees, staff and faculty who test positive for the COVID 19 virus must notify the department of Human Resources. All students must notify the Charles Drew Health Center if you are symptomatic or aren't feeling well, or test positive. Nonresidential students should avoid coming to campus if you are symptomatic.
Students and employees should follow the current CDC or their health professional's guidance regarding isolation and quarantine.
Keeping your COVID vaccination status up to date
The University System of Maryland is not requiring COVID vaccinations of staff, faculty and students at this time. In following the guidelines of the CDC, all UMES students, faculty and staff are strongly encouraged to be fully vaccinated and boosted for COVID-19. Please upload your vaccination to the Vaccine portal.
Mask/Face Coverings
UMES no longer requires masks to be worn by students, faculty, staff, contractors and visitors inside UMES buildings and facilities. However, masks continue to be required in all campus medical settings, including the University Health Center, as well as settings with preschool aged children including the Child and Family Daycare Center.
While no longer mandated, personal health practices are encouraged to help keep the UMES community safe.
Physical Distancing
It is strongly encouraged that members of the campus community maintain distance between themselves and others to avoid being exposed to the COVID-19 virus and to slow its spread. While many Hawk family members are fully vaccinated, some are not. It is therefore important to physically distance yourself from others when possible to help protect people who are at higher risk of getting sick. See guidance from the CDC related to prevention of COVID-19.
Monkeypox
UMES medical experts continue to follow the science and are working with Somerset Health Department to respond to Monkeypox cases on campus, should any arise. Monkeypox is a rare infection caused by the monkeypox virus. A small number of cases have been recently reported in the U.S., Canada, and Europe—areas where it isn't usually found. Monkeypox can make you sick including a rash or sores (pox), sometimes with a flu-like illness. If you have a new or unexplained rash, sores, chills and fatigue:
See your healthcare provider. If you don't have a provider or health insurance, visit health.maryland.gov/CSTIP/local to find a health department near you .

Students can contact the Charles Drew Health Center for guidance.

When you see a healthcare provider for possible monkeypox, remind them that this virus may be circulating in the community.
Avoid close physical contact with anyone until you have talked to a healthcare provider.
March 31, 2022
At the University of Maryland Eastern Shore, we are committed to being a community of care. We do our best to make our campus community one of compassion, responsibility, advocacy, and justice.
Throughout the COVID-19 pandemic, we have followed the science and the guidance provided in collaboration with local, state, and federal public health recommendations. We have complied with mandates from the chancellor, as well as, our local public health officer; by putting vigilant protocols in place, to take care of our students and employees.
Up to this point, our university has taken a conservative approach, opting to see how COVID levels were in the community after spring break. However, as we begin to move from a pandemic state to an endemic phase, it is important to shift the focus to controlling the disease from a personal responsibility aspect.
At this time, it is safe to say that our Hawks are following the guidelines and keeping the spread of the virus to a minimum.
Therefore, as of April 1, the university will be relaxing some of the safety protocols associated with the COVID-19 pandemic. We will move forward with asking you all to continue to act socially responsible.
Employees will no longer be required to complete a symptom checker before coming to campus. You know if you are not feeling well. Please make it your responsibility to stay home if you are ill.
Masks will only be required in locations where social distancing is not possible, such as close classroom spaces. In other areas, it will be up to the individual whether to choose to wear a mask indoors.
Testing will move to once a week in April. (Dates TBD). Based on the information we receive in April; we will share updates for our plans in May, but please be aware commencement participants may have specific requirements because of the number of people in Hytche Arena.
Thank you for continuing to remain diligent and working to keep our campus safe and healthy.
---
January 26, 2022
Dear Hawk,
We write to you today to update our plans in advance of the Spring 2022 term. UMES campus community was compliant with the University System of Maryland (USM) COVID-19 vaccination mandate for the Fall 2021 term and we thank all of our students, faculty and staff for continuing, in advance of this term, to show our HAWK pride.
UMES is requiring all eligible students, faculty and staff to receive a COVID-19 mRNA (Pfizer or Moderna) vaccine booster and submit proof of their vaccination status by Monday, Jan. 31 or within 14 days of becoming eligible. If you've already received a booster you can submit proof now at MyUMES Portal

This decision is in alignment with the message from the University System of Maryland that affirms how "recent data show that boosters offer added protection against COVID, reducing symptom severity, including in cases of omicron infection. Our available vaccines shorten the duration of illness and infectiousness, reducing transmissibility and spread in settings such as congregate housing." We learn more each day about the virus and the Omicron variant, which has spread more rapidly than prior strains.

UMES is planning for the start of an in-person Spring 2022 semester, complete with engaging campus life activities, beginning January 31. We are emphasizing the following three key areas:
Vaccinations
The requirement for full vaccination against COVID-19 — including an mRNA (Pfizer or Moderna) vaccine booster for those who are eligible — applies to the spring 2022 term, as well. All students, faculty and staff are required to upload proof of vaccination and/or booster to MyUMES Portal by Jan. 31 or within 14 days of becoming eligible. If you've already received a booster, you can submit proof now under vaccination verification.
An exception for religious and medical purposes remains available.

Those who were exempt in the fall do not need to re-apply for a new exemption.

Vaccinations and boosters remain widely available and free for all who are eligible. Find a vaccine site near you at vaccines.gov. UMES is hosting ongoing clinics on campus, on February 3, 2022 from 10am-2pm in the SSC Ballroom. Walk-ins welcome.
All members of our campus community are reminded that compliance with vaccination policy is a condition of being physically on campus. Non-compliance can result in restricting access to facilities and progressive discipline — including and up to canceled registration for students, and including and up to termination of employment for faculty and staff.
Return test
All members of the UMES community are required to have a negative result from a COVID-19 test prior to returning to campus for regularly-scheduled work, classes or residential move-in, or by January. 31, whichever comes first. Any individual who has tested positive for COVID-19 in the past 90 days will be able to attest to that instead.
Any PCR or rapid antigen negative test will be accepted. The State of Maryland has opened additional testing sites around the state through the Maryland Department of Health to make access to tests easier.
The negative result will need to be reported through the office of Resident Life and Student Affairs.
Masks
UMES remains a mask-on campus in all indoor locations.
UMES is recommending KN95 masks in all classrooms through the start of the spring term. They are strongly recommended for all indoor settings on campus.
Students, faculty and staff are encouraged to bring their own KN95 masks, however, a supply of KN95 masks will be distributed at multiple locations around campus including the Office of Residence Life and Student Service Center info desk.
We also want to reiterate the following previously-communicated measures:
Students should test for COVID at minimum once per week. Twice-weekly COVID testing for those who are exempt to the vaccination mandate resumes as of January 24th.
Anyone who is symptomatic or who has been exposed to COVID-19 should fill out the UMES Daily Symptom Checks . This symptom monitoring tool initiates UMES contact tracing protocols and provides the University Health Center with accurate data about potential cases within the UMES community.
We will continue to work closely with our local, state and federal partners, including our fellow university leaders and health experts through the University of System of Maryland, as we prepare for the spring term.
Thank you for continuing to show our HAWK pride!

Sincerely,
Latoya Jenkins, MBA
VP for Enrollment Management & Student Experience
Nancy Niemi, Ph. D
Vice President and Provost
Lester Primus, MBA
Chief Operating Officer