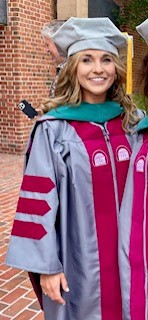 Erin is a 2022 graduate of the UMES Physical Therapy Program. She received her Bachelor of Science in Exercise Science from the University of NC-Wilmington.
Erin was awarded the Joseph Beatus Award for Excellence in Patient-Centered Care during the UMES Department of Physical Therapy graduation ceremony on September 9, 2022.
The UMES Department of Physical Therapy Joseph Beatus Award for Excellence in Patient-Centered Care is given in honor of Dr. Beatus, who was an Associate Professor in the Department of Physical Therapy at the University of Maryland Eastern Shore. He was an integral part of the program for 30 years, and retired in 2013. The criteria for selection attempts to embody the treatment approach and style demonstrated by Dr. Beatus, who made a lasting impression on his students. For three decades, his philosophy of providing high-quality, effective, patient-centered care has been instilled in all of his students.
Erin's two final clinical placements were at Calvert Health Outpatient Rehab in Prince Frederick, MD and La Plata Physical Therapy in La Plata, MD. The following is a compilation of written words form her nominators and clinical instructors, Christine Fratantuono, Catherine French, and Jane Cunningham.
Erin's positive attitude and significant contributions to the work in the clinic environment have been remarked on by all the staff. From Erin's first day in the clinic, her passion for her profession was obvious. She is professional, empathetic, willing to seek additional knowledge, outgoing, compassionate, knowledgeable, and patient. She is dedicated and it shows in the time she spends with her patients, the way she is able to let them feel heard but still in control of their session so she is getting done what needs to without making the patient feel like they are on a tight time frame. Erin carefully follows up to ensure the progress of each of her patients. After one evaluation, she had concerns, and consulting with the PT, she felt the adult patient should have additional testing and imaging.
Erin communicates effectively with PTs, PTAs, and PT aides, in addition to communicating extremely well with patients of different age groups (infants to elderly) and with persons of different abilities. Erin had the opportunity to work with a 3-month-old infant, non-verbal 4-year-old, and adolescents in/out of an aquatic environment and was able to adjust her demeanor, body language, and interaction skills with each age group to elicit appropriate patient responses. Erin uses words of praise and encouragement well and finds ways to connect with adolescents to make them feel at ease, comfortable, and less anxious before initiating treatments. When treating a 12-year-old with temperature regulation issues, Erin explored and sought out additional information for possible uses for a cooling vest for the patient.
On one occasion, Erin stayed late with the pediatric therapist, as she desired to learn more ways to effectively treat her 10-year-old patient with Spina Bifida in the aquatic environment and suggestions to keep him engaged and less fearful of the water. While consulting with the PT, she used her lunchtime to get in the pool to experience various movements using a variety of floatation devices and weights, experience movements with and without the jets on, and to experience walking/jogging on the underwater treadmill. All were done on her own initiative to allow herself to better understand patient responses and to learn body reactions in the aquatic environment.
Erin made me remember why I went into this field and the passion I have for what we do. She made me want to be a better therapist, not only to teach her as much as I could during her time here but to be better for my patients. She is what we do not see enough of anymore. Someone not looking to make more and do less but rather someone who wants to make a difference and is willing to work hard to achieve that. She is an asset to our profession and will have a long and successful career with the attitude, personality, and drive that she has.
The department will always remember her confidence, kindness, poise, and ability to connect with others. Congratulations Erin.