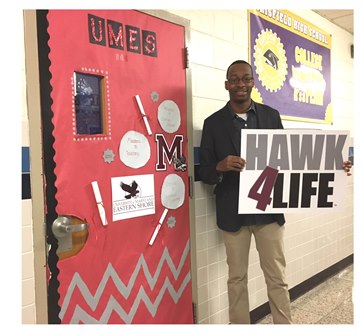 UMES alum Richard Warren is Maryland's 2018-19 Teacher of the Year
Tuesday, October 16, 2018
Richard Warren Jr.'s classroom is not difficult to locate a few steps down the hall from Crisfield High School's central office. It might just be a local landmark, now that he's Maryland's 2018-19 Teacher of the Year.
Warren's door festooned in maroon is an homage to the University of Maryland Eastern Shore, his alma mater in triplicate.
Affixed to it are three rolled-up pieces of paper tied with ribbons, symbols of the degrees he's earned since 2011; a bachelor's in exercise science, a Master's in Teaching (2014) and this past spring, a doctorate in educational leadership.
"This is truly amazing," said professor emeritus Karen Verbeke, who trained teachers at UMES for 25 years. "A three-time alumnus of an institution — that simply doesn't happen in … 'Teacher of the Year world.' We should definitely be Hawk proud!"
Indeed.
The eighth-grade science teacher was named Maryland's top teacher at an Oct. 12 gala in Baltimore, triggering a celebration that reverberated down the Chesapeake to Maryland's southernmost municipality — and across the internet.
Warren said his social media accounts exploded with congratulations and well-wishes, as did those of his alma mater, which trumpeted the good news on Facebook and Twitter moments after the late Friday evening announcement.
He described the honor as "overwhelming, exciting … and surreal."
When called to the stage at the banquet, Warren told peers "I am extremely humbled to know that I now represent some of the most devoted and dynamic teachers across the state of Maryland."
He followed that by acknowledging the four dozen or so people in the audience, many from Somerset County.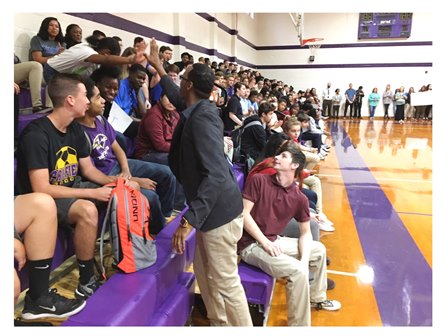 "We are small in number, but mighty in spirit," Warren said.
Warren hails from Salem, N.J., a small, hardscrabble community on the Delaware River not unlike Crisfield. On a clear day, you can see Delaware City's petroleum refinery eight miles away.
He told the Maryland Department of Education in a video featuring Teacher of the Year nominees that he is "a product of a teacher saving my life."
"At an early age, I was surrounding by gangs, poverty, drugs, a lot of criminal activity," Warren said. "The only thing that kept me afloat was a caring teacher."
That appreciation came through on his first day back at work, when he was coaxed under false pretenses to the school gymnasium, which was packed with students, faculty and staff for a surprise celebration.
Like baseball's Cal Ripken Jr. a generation ago when he broke Lou Gehrig's consecutive game streak record, Warren circumnavigated the gym, exchanging high-fives with students and hugging happy colleagues.
Asked by principal Tony Bevilacqua what went through his mind when the state superintendent announced he was the winner, Warren said his thoughts went to "all the teachers who work to help children who are not their own."
He then gazed across the hardwood floor to the far end of the Crisfield High gym, and said, "I see teachers who pour their heart out for you (students) – every last one of you."
Those who know him say it was vintage Warren. He's been a teacher for six years, but brings a maturity and dedication to the profession well beyond his 29 years.
Dr. Patricia Goslee, a UMES education professor, taught Warren in the final course he needed to earn his doctorate.
"Richard exceeded all expectations on his assignments to the point I used his 'Exit Portfolio' as a model of exemplary work," Goslee said.
"While observing him in the classroom," she said, "I saw a teacher who was passionate about his students understanding biology. He taught each class as if it were the first class of the day with enthusiasm and rigor."
Dr. Madhumi Mitra, a UMES biology professor, was Warren's adviser when he was pursuing his master's degree.
"While observing him in his classroom at Crisfield High," Mitra said, "I was pretty impressed with his classroom management skills. The students were very inspired by him."
Dr. Nomsa E. Geleta, UMES' education department chair, was among those from the university at the banquet to support Warren.
"He delivered an amazing speech, and thanked UMES for the education he received," Geleta said. "I have attended these events for the last 18 years, (and) this is the first time I have heard the winner thank the university that prepared them."
Bevilacqua, his boss, said he was moved Warren brought his wife, Ebony, also a UMES alumna, on stage to share the moment.
"You're a class act," Bevilacqua said.
Warren told those assembled in the Crisfield gym that when he travels the state as Maryland's teacher-ambassador over the next year, "I'm going to share your stories – teacher stories, student stories."
"Every career that you want to be in revolves around education," Warren said. "Without teachers, no other career is possible."
"If you like helping people, teaching is the best way to do it," he said. "If you want to be a teacher, when you are old enough, I will show you the way."