PREVIOUS MESSAGES
May 7, 2021
If you believe you require an exemption from the COVID vaccine mandate, please complete one of the following forms:

Medical Exemption
Vaccine Incentive Day Off Form

If you have a question and don't see an answer, email icare@umes.edu.
April 16, 2021
This week's testing numbers as of April 16, 2021.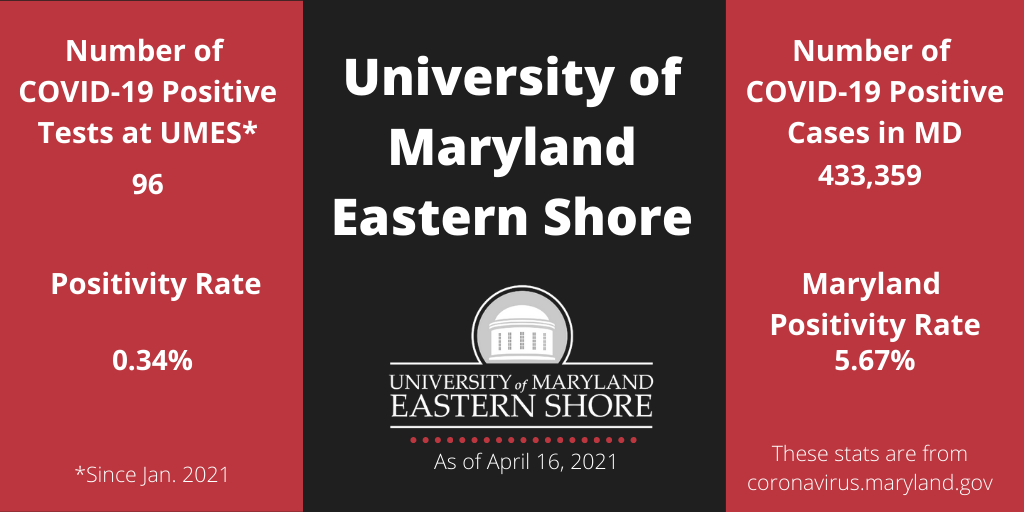 January 29, 2021
Monday, Feb. 1 starting at 10 a.m. will be our first round of ANTIGEN testing. This necessitates a NEW PROCESS, so please pay attention to the following steps and be patient as we all work to adapt. PLEASE BRING YOUR HAWK ID or KNOW YOUR NUMBER. You will need this each testing cycle.
STEP 1 – Complete your consent form in the lobby of Hytche Arena
STEP 2 – CARRY YOUR FORM INSIDE THE ARENA to ANY table (No ABC names)
STEP 3 – Step up to a table, PRINT your name and phone number LEGIBLY on a label
STEP 4 – TAKE BOTH THE FORM AND THE LABEL and proceed to the testing area where the healthcare
providers are stationed
STEP 5 – Hand the form to the healthcare provider and place the label on your test kit
STEP 6 – Complete nasal swab in both nostrils for 8 – 10 seconds on EACH SIDE
STEP 7 – Leave swab with the tester and proceed on with your day
PLEASE NOTE – You will ONLY BE CONTACTED IF YOUR TEST READS POSITIVE and you will be contacted ON THE SAME DAY AS TESTING.
If you test positive, PLEASE WORK WITH OUR STAFF AND SOMERSET COUNTY HEALTH DEPARTMENT to keep our community safe by answering questions honestly and politely, isolating for the recommended time frame, and following all instructions.
Only by working together can we keep our community safe.
Testing will take place EVERY MONDAY AND THURSDAY and ALL CAMPUS COMMUNITY members are expected to be tested each time. We know this is an inconvenience, and we are so close to vaccinations being widely available, but PLEASE do your part until such time that we can safely celebrate the end of the pandemic together.
Here are your test times, grouped by birth month:
Birth Month
10:00 AM-11:00 AM January
11:00 AM-12:00 PM February & March
12:00 PM – 1:00 PM April & May
1:00 PM – 2:00 PM June & July
2:00 PM – 3:00 PM August & September
3:00 PM – 4:00 PM October
4:00 PM – 5:00 PM November & December
President Message on Commencement – November 13, 2020
Student and Family Town Hall – July 16, 2020
UMES Student Return to Campus Planning Fall 2020 – Letter to Students – June 8, 2020
Return to Campus update – June 4, 2020
Guidelines of Research Relaunching
Proposed Research Relaunching Guidelines for UMES Vessels