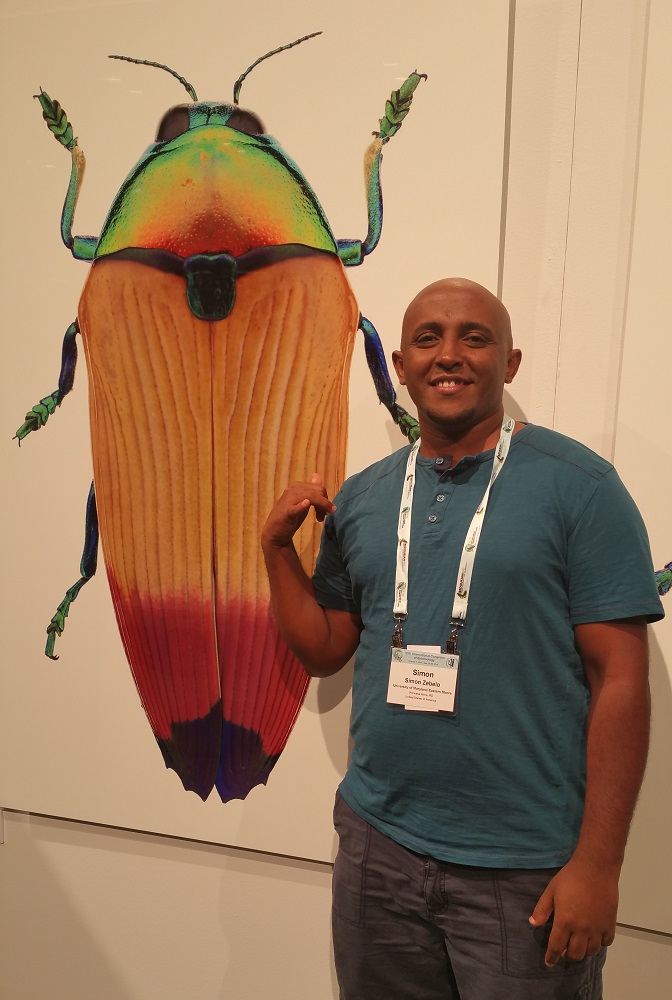 Professor 
Department of Natural Sciences
Department of Agriculture, Food and Resource Sciences 
Trigg Hall, Room 1117
Princess Anne, MD 21853 
Email:  sazebelo@umes.edu 
Phone: (410) 651-6163
>full curriculum vitae <
Education:
Ph.D.; Plant and Environmental Bio-sensory Chemical Ecology; University of Turin; Tirin, Italy; 2011.
M.S.; Agricultural Entomology; Hawassa University; Awassa, Ethiopia; 2007.
B.S.; Plant Production and Dry Land Farming; Hawassa University; Awassa, Ethiopia; 2004.
Research:
Developing environmentally sustainable alternative management practices for the kudzu bug in Maryland
Rhizobacteria mediated plant insect interactions project
Publications:
Zebelo SA, Song YY, Kloepper WJ and Fadamiro HY. 2016. Rhizobacteria activates (+)-δ-cadinene synthase genes and induces systemic resistance in cotton against beet armyworm (Spodoptera exigua). Plant cell & environ, doi: 10.1111/pce.12704.

Ajayi, O.E, Balusu R, T. Morawo T, Zebelo SA, and Fadamiro HY. 2015. Semiochemical modulation of host preference of Callosobruchus maculatus on legume seeds. Journal of Stored Products Research 63: 31-37

Zebelo SA, Maffei ME. 2015. The role of early signaling events in plant-insect interactions. Journal of Experimental Botany. eru480. (Review)

Zebelo SA, Piorkowski J, Disi J, Fadamiro H. 2014. Secretions from the ventral eversible gland of Spodoptera exigua caterpillars activate defense-related genes and induce emission of volatile organic compounds in tomato, Solanum lycopersicum. Bmc Plant Biology 14

Bricchi I, Occhipinti A, Bertea CM, Zebelo SA, Brillada C, Verrillo F, De Castro C, Molinaro A, Faulkner C, Maule AJ, Maffei ME. 2013. Separation of early and late responses to herbivory in Arabidopsis by changing plasmodesmal function. Plant Journal 73, 14-25.

Zebelo SA,Maffei ME. 2012. The ventral eversible gland (VEG) of Spodoptera littoralis triggers early responses to herbivory in Arabidopsis thaliana. Arthropod-Plant Interactions 6, 543-551.

Zebelo SA, Matsui K, Ozawa R, Maffei ME. 2012. Plasma membrane potential depolarization and cytosolic calcium flux are early events involved in tomato (Solanum lycopersicon) plant-to-plant communication. Plant Science 196, 93-100.

Mohanta TK, Occhipinti A, Zebelo SA, Foti M, Fliegmann J, Bossi S, Maffei ME, Bertea CM. 2012. Ginkgo biloba Responds to Herbivory by Activating Early Signaling and Direct Defenses. Plos One 7

Cordero C*, Zebelo SA*, Gnavi G, Griglione A, Bicchi C, Maffei ME, Rubiolo P. 2012. HS-SPME-GCxGC-qMS volatile metabolite profiling of Chrysolina herbacea frass and Mentha spp. Leaves. Analytical and Bioanalytical Chemistry 402, 3017-3018. ( *: Equal Contribution)

Occhipinti A, Zebelo SA, Capuzzo A, Maule AJ, Maffei ME. 2011. Indirect plant responses to herbivory: the involvement of plasmodesmata. Febs Journal 278, 470-471.

Zebelo SA, Bertea CM, Bossi S, Occhipinti A, Gnavi G, Maffei ME. 2011. Chrysolina herbacea Modulates Terpenoid Biosynthesis of Mentha aquatica L. Plos One 6.

Occhipinti A, Zebelo SA, Capuzzo A, Maffei M, Gnavi G. 2011. Chrysolina herbacea modulates jasmonic acid, cis-(+)-12-oxophytodienoic acid, (3R,7S)-jasmonoyl-l-isoleucine, and salicylic acid of local and systemic leaves in the host plant Mentha aquatica. Journal of Plant Interactions 6, 99-101.

Kanchiswamy CN, Takahashi H, Quadro S, Maffei ME, Bossi S, Bertea C, Zebelo SA, Muroi A, Ishihama N, Yoshioka H, Boland W, Takabayashi J, Endo Y, Sawasaki T, Arimura G. 2010. Regulation of Arabidopsis defense responses against Spodoptera littoralis by CPK-mediated calcium signaling. Bmc Plant Biology 10.

Zebelo SA, Alemu T, Azerefgne F, Addis T. 2009. Population dynamics of aphids and incidence of Ethiopian Pepper Mottle Virus in the Central Rift Valley of Ethiopia. Crop Protection 28, 443-448.

Zebelo SA, Alemu T, Azerefgne F. 2009. Diversity of aphids in the central rift valley of Ethiopia and their potential as vectors for Ethiopian Pepper Mottle Virus (EPMV). Journal of Entomology and Nematology1(1), pp. 001-006.
Book Chapter
Zebelo SA, Maffei ME. 2016. Plant Electrophysiology: Early Stages of the Plant Response to Chemical Signals. In: Blande, J.D., Glinwood, Robert (Eds.). Deciphering Chemical Language of Plant Communication. Springer International Publishing.

Zebelo SA, Maffei ME. 2012. Signal Transduction in Plant–Insect Interactions: From Membrane Potential Variations to Metabolomics. In: Volkov AG, ed. Plant Electrophysiology: Springer Berlin Heidelberg, 143-172.
Honors and Awards:
Government of Italy Doctoral Scholarship for Foreign Students by ranking 1st out of 36 international candidates (Full tuition and living Stipend)
Travel award on 27th annual meeting of international society of Chemical ecology held at University of Simon Fraser Burnaby, BC, Canada (2011).
Professional Experience:
Assistant Professor, University of Maryland Eastern Shore, Oct 2015-present.
Adjunct Assistant Professor, University of Maryland College Park, April 2016-present.
Research Fellow III, Auburn University, Oct 2014–Sept 2015.
Research Fellow II, Auburn University, Jan 2014-Oct 2014.
Postdoctoral Scholar, Auburn University, April 2012-Dec 2013.
Research Assistant, University of Turin, Italy, Jan 2009-March 2012.
Lecturer and Researcher, Hawassa University, Ethiopia, Dec 2007-Dec 2008.
Professional Affiliations:
American Society of Plant Biology
International Society of Chemical Ecology
Entomological Society of America
Course List:
Research Methodology in Agricultural Sciences (AEED 691)
Integrated Pest Management(PLSC 321)
General and Economic Botany (BIOL 208)
Chemical Ecology/molecular ecology (ENTO 2030)
General Entomology (PLSC 221)